Catching Him by Aurora Rose Reynolds: Sick of men who won't be faithful or can't commit, Leah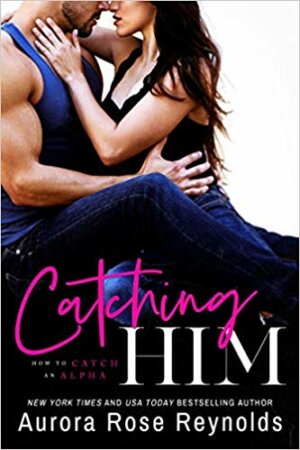 adopts a cat. Except her cat, Mouse, is quite the escape artist and not quite the companion she imagined. Leah is feisty, independent, and close with her family. She loves spoiling her niece and nephews and proudly earns the title of "best aunt." She works as a hairstylist with her mom and grandma.
Thanks to Mouse, Leah leaves a memorable first impression on her hunky new neighbor. Tyler is handsome, sexy, and can turn on the charm. He is new to town and looking forward to his new job as a foreman. He's honest, possessive, and determined.
Despite being sick of men, Leah is intrigued by Tyler. She doesn't do commands, but Tyler's propensity to tell her rather than ask works for her. She's definitely attracted, but she's also unsure of exactly what Tyler wants. They form a fast friendship and end up spending a lot of time together.
Mr. Hottie from next door, now known as Tyler, smirks down at me from under the bill of his baseball cap. "Babe, you didn't need to kidnap my dog just to get my attention," he jokes.
I cross my arms over my chest while glaring at him and huff. "As if I want your attention."
No one believes that Leah and Tyler are just friends. They are too close and the way they look at each other isn't at all friend-like. They flirt, banter, and complement each other to the point where becoming lovers is a natural next step. Tyler is persistent, thoughtful, and protective.
"Are you asking me on a date or telling me we're going on one?" I quip, and he grins.
"Take it how you want, baby, but we're going out tonight." He lets my hand go and takes another bite off his plate.
"So you're telling me, then." I smile like an idiot.
Catching Him has heat, humor, banter, and romance with adorable pets. Aurora Rose Reynolds definitely entertains with what promises to be a sexy new series. Ms. Reynolds created a memorable and entertaining cast of characters you would like to hang out with. Fans of Melissa Foster and Leddy Harper will enjoy Catching Him.
Book Info:

Publication: August 27th 2019 | Montlake Romance | How to Catch an Alpha #1
From New York Times and USA Today bestselling author Aurora Rose Reynolds comes the first novel in the fun, sexy, and thrilling How to Catch an Alpha series.
Leah Emerson isn't looking for a man—she's looking for the right man. But her mother's idea of a great catch leaves her cold, and she's pretty sure her cocky, arrogant, and way too good-looking new neighbor isn't the one either. If only her wayward cat would stop jumping through his window, she could get on with her life.
Tyler Duncan moved into town for a new job, not to fall in love. But he always goes after the things he wants in life with steadfast determination…and he wants Leah Emerson. He wants her smiles, he wants her touch, and he definitely wants her in bed.
Unfortunately, someone else wants Leah—in the worst way. Now Tyler's on a mission to protect the woman he's falling in love with while proving he's worth falling for, and Leah must decide whether Tyler is a catch worth catching…