Welcome to Harlequin Junkie's
5th
Annual

Reader Appreciation
#BOOKMAS
EXTRAVAGANZA!
HJ's Bookmas Extravaganza is our annual celebration of YOU, our loyal and engaged readers of Harlequin Junkie blog and the romance community.
Thank You for all you do; for all the tweets, re-post, shares, comments. We <3 You!
From Naughty to Nice and Everything in between….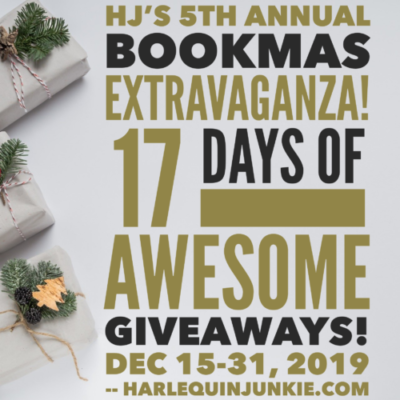 On the 10th Day of #Bookmas…
Tule Publishing gave to me…. 

A Gift Basket with Tule Publishing Swag
In the spotlight today…
Tule Publishing – Tule's one goal is to publish fantastic stories by the best writers. We want to delight our readers and satisfy our authors' desire for creativity, freedom, and commercial success. Many of our authors are from the traditional NY world of publishing, with an existing reader fan base. Our books are the heart of our site, our business, and our passion. We have imprints to suit every mood and taste — and there are more, coming soon! The authors we publish all have unique styles and terrific voices. You'll become a big fan, if you aren't already!
Here are just some of our most-anticipated releases of 2020:
Landing the Lawman by Kadie Scott. January 14, 2020
He thought he was in control until she snuck into his heart…
Carter Hill walked away from a perfectly fine life and relationship…all for a career she's chased since she was fourteen. Years and a PhD later, she loves her job as a water rights consultant. At the same time, now that all her brothers are happily married, she's lonely and wanting more. But the only man in her life is Logan – super serious, no sense of humor, and friend-zoned. Or is he? Perhaps a sexy, no-strings affair with a man more driven than she is could help her move on.
Logan Cartez doesn't date, do relationships, or worry about commitment. He's married to his job – making sure what destroyed his family ranch and their legacy doesn't happen to others. When Carter propositions him, what began as a passionate and unforgettable night soon develops into more. Logan finds himself doing things he swore he never would, and the feisty, brilliant, blue-eyed rancher's daughter has him thinking about so much more than work.
True Blue Cowboy by Debra Holt. February 3, 2020
Will his proposal eventually win her heart?
For rancher Chance Braxton, Josie Monroe was the classic girl next door. He'd fallen early and hard, but because her heart had belonged to his careless and indifferent brother, Chance had been permanently friend-zoned since Josie was a teen. Now Josie's running her failing ranch all alone, and it's time for Chance to step up and keep a promise he made to her dying mother – marry Josie and combine their ranches.
Josie Monroe doesn't want help or need to be saved by anyone – especially her wealthy ranching neighbor and forever thorn in her paw, Chance Braxton. The serious, way-too-handsome cowboy has starred in too many of her fantasies, but he still sees her as a heart-broken girl. She's a woman now, and she's determined to prove everyone wrong: She can save her ranch and rebuild her father's legacy…alone.
When Chance proposes, Josie's problems are just beginning. So why does her pulse kick up every time he rides by and tips his Stetson?
Dog Park Sweethearts by Sasha Summers. February 4, 2020
Best friends fur-ever…
Autumn Welsh has a full life. Dream job. Loyal dog. Good friends. And a happy family. Or it would be, if she could stop worrying about her dad. He needs to get out, live a little, maybe even find someone special. And she has the perfect woman in mind. With the help of her steadfast, dog park buddy Noah, she sets out to help her father find companionship just in time for Valentine's day. Little does she guess that her dad won't be the only one finding love…
Restoration expert Noah Contreras was all in favor of Autumn's matchmaking. His mother was lonely and her father was too. So why not give them a little push toward one another? Besides, spending time with Autumn is always an adventure. From giving art lessons to helping with pet adoption events, she embraces life with an energy and joy Noah finds irresistible. But Noah's contract is almost finished, and he'll soon have to move on.
Does he dare ask Autumn to be his Valentine, when he might not be around for the rest of the year?
Sweet Texas Kiss by Monica Tillery. February 14, 2020
Small town. Big secrets. Welcome to Sweet Ridge, Texas
When the Cooper brothers hear what their father left them in his will, they're surprised to find that the things closest to their hearts were given to three random women. Gavin Cooper had his heart set on owning the house the family had grown up in, and when his old high school rival inherits it, he's devastated. But she can't sell the house for one year, and that's plenty of time for him to find a way to get it back.
When Macy Young said goodbye to Sweet Ridge and left to pursue fame and fortune, she never thought she'd return. After losing her best friend, Macy went on a downward spiral of pain and shame. Living in the inherited house where she'd spent many happy hours might just soothe her weary soul.
Macy and Gavin will have to find a way to forgive themselves and each other if they're ever going to be happy. Can this country star and veterinarian forget their pasts and start a life together?
Montana Cowboy Romance by Jane Porter. April 2, 2020
New York Times and USA Today Bestselling Author Jane Porter kicks off her brand new cowboy series with a modern twist on an old-fashioned way of finding a wife.
After the only woman Joe Wyatt ever loved marries another, the Montana rancher swears off romance. He's done playing the game. Only problem? He needs a wife, and kids he can pass the Paradise Valley cattle ranch to. So Joe takes the same no-nonsense approach to marriage as he does to running his family's business…he places an online ad for a mail-order bride. The ad is a lot like Joe, straight-forward and to-the-point: Wife Wanted.
When Sophie Correia is left at the altar after her groom runs off with her maid of honor, she wants to get as far away from California and her dairy farming family as possible. Sophie doesn't need hearts and flowers, but she's fed up with men who can't commit. And at thirty, she's more than ready to start a family. When she comes across Joe's ad, she thinks she's found the perfect solution — head to Montana, get married, and move forward.
Can a contract for marriage lead to love, or will the arrangement cost them their hearts?
US – Giveaway:

Three free Tule ebooks of your choice along with Tule swag, including a notepad, magnet, pen, luggage tag, nail file and magnet.
To enter Giveaway: Please complete the Rafflecopter form and  

Leave a comment with your thoughts on the books spotlighted here, tell us which one(s) grabbed your attention & why?
Be sure to stop by everyday from Dec 15 to Dec 31 2019 for a chance to win: Box-O-books, Gift Cards, Audio books, Signed book bundles, Author Swag & more!