A Child's gift by Linda Warren is about a young boy Dusty and also about Rico and Anamarie.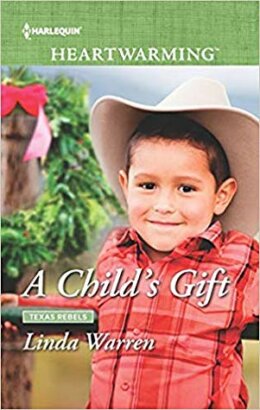 Dusty is left alone after his grandmother passes away, Anamarie was caring for him while his mother is away. Rico is given custody of him temporarily. Will he be able to care for him by himself?
Rico has been visiting Anamarie at her family bakery and has become friends. Her family, especially her mother, doesn't approve of him. Will they be able to work things out so they can be together and help Dusty?
I loved how caring hard working Rico was. I loved the Rebel family, who Rico worked for they were such a significant part of the story. I hope to read more about them in future books.
There is so much to Anamarie, her relationship with her mother was a hard one. That is a huge part of the story as well.  I did feel bad for Dusty at times. Read the book to find out why.
Book Info:

Publication: 12/01/2019 | Halequin Heartwarming |
Cowboy Jericho Johnson lives a good life working on the Rebel family's Texas ranch. All he's missing is a wonderful woman like Anamarie Wiznowski. But Rico's troubled past and Ana's disapproving family conspire against them. When Rico is named guardian to a four-year-old boy, he asks Ana for help. And suddenly, he's falling faster than Christmas snow…for Ana, sweet little Dusty and life as a family man!