Welcome to Harlequin Junkie's
5th
Annual

Reader Appreciation
#BOOKMAS
EXTRAVAGANZA!
HJ's Bookmas Extravaganza is our annual celebration of YOU, our loyal and engaged readers of Harlequin Junkie blog and the romance community.
Thank You for all you do; for all the tweets, re-post, shares, comments. We <3 You!
From Naughty to Nice and Everything in between….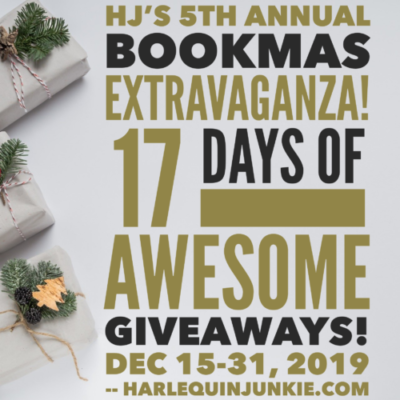 On the 11th Day of #Bookmas…
HQN Books gave to me…. 

A chance to win $25 Amazon Giftcard!!
In the spotlight today…

Harlequin is a global publisher of commercial fiction and a worldwide leader in romance fiction, with titles issued worldwide in as many as 32 languages and sold in up to 93 international markets. The company publishes more than 110 titles monthly and more than 1,300 authors from around the world. Harlequin is a division of HarperCollins Publishers, the second largest consumer book publisher in the world with operations in 18 countries. For more information, please visit Harlequin.com and Facebook.com/HarlequinBooks. Follow Harlequin on Twitter: @HarlequinBooks.

Here is a list of HQN's  Holiday Titles: 
A GIVING HEART by Toni Blake
Lila Sloan is housesitting for her sister, Meg, who owns an inn on Summer Island–it seemed like the perfect getaway. Now, Lila wonders why she ever thought spending Christmas alone on an isolated island was a good idea. To make matters worse, local real estate developer Beck Grainger is trying to cut down the beautiful trees that line Meg's property. Lila can't let this happen; Meg will never forgive her.
Beck can understand Lila's anger—sort of. The trees are on the neighboring property, not Meg's, and the land was zoned for residential use months ago. His plans were no secret. He dislikes being at odds with his friend's sister, though, especially because Lila is appealing in every way: loyal, quick-witted, and completely stunning.
Lila hates that she's so attracted to Beck, who seems like a genuinely good man, despite his tree-murdering tendencies. And their chemistry is off the charts. She just wishes he'd let this development go. As Summer Island counts down to a snowy Christmas, Lila and Beck will have to strike a compromise that seems impossible for them both—or risk losing the best thing either of them has ever had.

A WEDDING IN DECEMBER by Sarah Morgan
Sarah Morgan's fourth trade title follows the White family as they embark on their most intense family Christmas yet. Long-kept secrets and tensions bubble to the surface against the backdrop of youngest daughter Rosie's whirlwind winter wedding. Funny, heart-warming, relatable and romantic, this is Sarah Morgan at her festive best!
In the snowy perfection of Aspen, the White family are gathering for a winter wedding. Their much-loved younger daughter Rosie is getting married to her childhood sweetheart Dan, but as guest start to arrive emotions are running high.
First to arrive are the bride's parents, Maggie and Tom. They are here to celebrate their daughter's wedding and are hiding the fact that they have been living apart for the past three months. They have agreed to divorce, but plan not to say anything until after the wedding. The last thing they need is to be trapped together in a winter wonderland.
Rosie's older sister Katie is also dreading this wedding. She's had some life changing news that she isn't ready to share. She intends to spend time in the snowy wilderness figuring out her next move in life, but the best man Jordan seems to think it's part of his role to watch out for her.
Rosie is having second thoughts about getting married but doesn't know how to tell her family. Everyone is here to celebrate her wedding. The dress has been delivered. The cake is made. How can she tell Dan she doesn't want to go ahead? With Maggie and Tom faking togetherness, Katie faking civility and Rosie faking being in love, this is one White family Christmas none of them will ever forget.

A LOW COUNTRY CHRISTMAS by Lee Tobin McClain
Holly Gibson has one wish this Christmas season: to find her young niece's father. And she's traveled hundreds of miles to the small town of Safe Haven to make that wish come true. But from the moment Holly lays eyes on the mysterious Cash O'Dwyer, he's nothing like she expected. Strong and kind, he makes her heart beat faster. And suddenly that little secret she's keeping about her sister stirs up all kinds of guilt…Cash is stunned—and more than a little wary—to discover he's a father. Having a family of his own was never part of his plan…until sweet baby Penny and her fiercely independent aunt Holly arrive in town. Now he's finding himself trimming trees and stuffing stockings for three. But Cash can't shake the ghosts of his own past this holiday season, forcing him to choose between the safe life he loved…and the new family he can't live without.

STEALING KISSES IN THE SNOW by Jo McNally
Between juggling her two adorable kids, two jobs, and a fixer-upper house, single mom Piper Montgomery is so busy she can hardly see straight. But when rugged biker Logan Taggert strolls into the B&B where she's working, she can't help but stare. She's promised her kids a "perfect" Christmas this year, and a bad boy has no place in those plans…
Once his grandmother is back on her feet, Logan can get back on the road. It's where he belongs after all, even if his grandmother's matchmaking book club biddies try to convince him otherwise. But there's something about beautiful, spitfire Piper that makes him wonder if kids and commitment might be just what he needs after all.
As Christmas draws ever closer, so do Piper and Logan. Could these two opposites find all they want this Christmas is each other?

A COLDWATER CHRISTMAS by Delores Fossen
Sheriff Kace Laramie and his brothers found long-awaited happiness when they moved to Coldwater, Texas, as foster children. But the feel-good story has one bittersweet twist—his brief marriage to local rich girl Jana Parker. When that blew up, Kace vowed never to marry again and has kept Jana mostly off his mind…until she comes back to town, needing his help. Recently divorced for a second time, Jana just wants to create a good life for her young daughter—and keep her mother from marrying Kace's gold-digging father. Asking him for help may be wrong given their history. But as the stakes—and their chemistry—make the Christmas season sizzle, Jana knows how much more wrong it would be to let a love this magical slip away again…

Giveaway:

1 $25 Amazon Giftcard
To enter Giveaway: Please complete the Rafflecopter form and  

Leave a comment with your thoughts on the books spotlighted here, tell us which one(s) grabbed your attention & why?


Be sure to stop by everyday from Dec 15 to Dec 31 2019 for a chance to win: Box-O-books, Gift Cards, Audio books, Signed book bundles, Author Swag & more!