Welcome to Harlequin Junkie's
5th
Annual

Reader Appreciation
#BOOKMAS
EXTRAVAGANZA!
HJ's Bookmas Extravaganza is our annual celebration of YOU, our loyal and engaged readers of Harlequin Junkie blog and the romance community.
Thank You for all you do; for all the tweets, re-post, shares, comments. We <3 You!
From Naughty to Nice and Everything in between….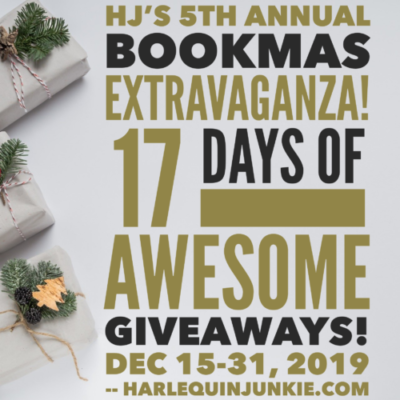 On the 12th Day of #Bookmas…
Entangled Books gave to me…. 

A book basket featuring all of Entangled's 2019 Mass Market Paperback releases!!
In the spotlight today…
Entangled Publishing is an independent publisher of romantic fiction, in both the adult and young adult markets. Since its first release in July 2011, Entangled has published more than 1,200 titles, including the #8 bestselling book of 2012 by Jennifer Probst, The Marriage Bargain, as well as the blockbuster YA hit Obsidian by Jennifer L. Armentrout which was recently signed for a major motion picture to begin production in the Spring of 2017. Entangled has since grown to thirteen imprints, with 57 titles appearing on the USA Today Bestsellers list and 17 titles on the New York Times Bestsellers list. Currently, Entangled releases approximately 20-35 titles per month in digital first format and 4 per month in simultaneous print and e formats. Website

A sneak peak at Entangled's  Most Anticipated 2020 Releases:  

Loud Mouth by Avery Flynn – 2/17/20
I never meant to say a word, not one single word.
But I did. And now, because of my blog, everyone knows that Ice Knights hockey star Ian Petrov's best friend and fellow player is actually his half brother—hello, hockey Hall of Famer dad who couldn't keep his jeans zipped.
That wouldn't be such a big deal if Ian knew. He didn't, and boy howdy is he pissed. And who is he most mad at? Oh sure, he's upset with his dad and former best friend/brother from another mother, but most of his ire is with me. It's definitely a case of hating the messenger.
And what could make it worse? How about the two of us being trapped together in a remote cabin after a massive blizzard. Neither of us can leave. Just us, the snow, his resentment, and OMG sexual tension so thick it would take a snowplow to break through it.
I've got to get out of here before I do something even dumber than I've already done and kiss the sexy, snarly grump with his misplaced anger and perfect pecs. That would be the worst, the absolute worst. That's why I'm not going to do it. Nope. Really. So why can't I stop imagining what it would be like?

Great and Precious Things by Rebecca Yarros – 2/25/20
How do you define yourself when others have already decided who you are?
Six years ago, when Camden Daniels came back from war without his younger brother, no one in the small town of Alba, Colorado, would forgive him—especially his father. Cam left, swearing never to return.
But a desperate message from his father brings it all back. The betrayal. The pain. And the need to go home again.
But home is where the one person he still loves is waiting. Willow. The one woman he can never have. Because there are secrets buried in Alba that are best left in the dark.
If only he could tell his heart to stay locked away when she whispers she's always loved him, and always will…
Great and Precious Things is a heart-wrenching story about family, betrayal, and ultimately how far we're willing to go on behalf of those who need us most.

Crave by Tracy Wolff – 4/7/20
My whole world changed when I stepped inside the academy. Nothing is right about this place. Or the other students in it. Here I am, a mere mortal among gods…or monsters. I still can't decide which of these warring factions I belong to, if I belong at all. I only know the one thing that unites them is their hatred of me.
And then there's Jaxon Vega. A prince. A vampire. An annoyingly kissable boy who hasn't felt a thing in over a hundred years. But there's a darkness to him. A secret craving that threatens to consume him whole.
Which could spell death for us all.
Because Jaxon walled himself off for a reason. And now someone wants to wake a sleeping monster, and I'm wondering if I was brought here intentionally—as the bait.

Bane's Choice by Alyssa Day – 7/28/20
The most powerful vampire alive, Bane learned a few things in his more than three hundred years: the Nephilim want to kill him, the team he has assembled are the greatest fighters alive, and the best place to hide the truth is in plain sight. Thus, the Vampire Motorcycle Club was formed. But when the VMC's only human friend almost dies, a beautiful doctor threatens Bane's long-cherished isolation … and his control.
Dr. Ryan Sinclair always tries to believe six impossible things before breakfast, but a career in medicine often challenges her ability to hope. But the night an intensely powerful stranger somehow compels her to stop protecting her patient—and then disappears—his parting words that he's coming for her feel like a promise … or a threat. And now Bane must choose. Risk the heart he's kept under lock for centuries or put Ryan's life at risk and pull her deeper into his world of the night…

Follow Me Darkly by Helen Hardt – 9/29/20
#1 NY Times bestselling author Helen Hardt's scintillating new series is a deliciously sexy, modern erotic romance about public personas and the secrets we keep buried beneath the surface.
I've been a control freak all my life.
Yet he makes me want to give up control.

Giveaway: (2) 

A book basket featuring all of our 2019 Mass Market Paperback releases
The Trouble with Cowboys by Victoria James
Nothing But Trouble by Amy Andrews
Just One of the Groomsmen by Cindi Madsen
The Aussie Next Door by Stefanie London
The Truth About Cowboys by Lisa Renee Jones
Trouble with Christmas by Amy Andrews
Tangled up in Christmas by Lisa Renee Jones
The Beast of Beswick by Amalie Howard
My Darling Duke by Stacy Reid
To enter Giveaway: Please complete the Rafflecopter form and  

Leave a comment with your thoughts on the books spotlighted here, tell us which one(s) grabbed your attention & why?

a Rafflecopter giveaway



Be sure to stop by everyday from Dec 15 to Dec 31 2019 for a chance to win: Box-O-books, Gift Cards, Audio books, Signed book bundles, Author Swag & more!