Welcome to Harlequin Junkie's
6th
Annual

Reader Appreciation
#BOOKMAS
EXTRAVAGANZA!
From Naughty to Nice and Everything in between….
HJ's Bookmas Extravaganza is our annual celebration of YOU, our loyal and engaged readers of Harlequin Junkie blog and the romance community.
Thank You for all you do; for all the tweets, re-post, shares, comments. We <3 You!
On the 12th Day of #Bookmas…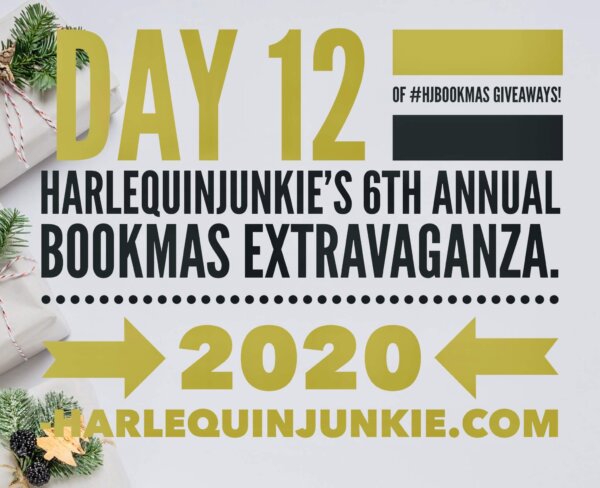 Carina Press gave to me…a chance to win: 

A Prize Pack of Must-Read Romances! 
In the spotlight today…
A preview of upcoming Carina Press 2021 titles:

Forgiven by Garrett Leigh (Forgiven, #1)
*Contemporary Romance, eBook and Audiobook on-sale January 25, 2021*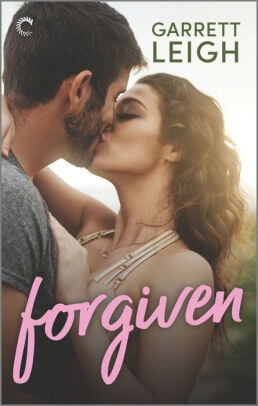 High school sweethearts Mia and Luke get a second chance at love in this brand-new contemporary romance from award-winning author Garrett Leigh.
When Mia Amour returns to England to open a florist shop, all she wants to do is put her lousy ex behind her and never look back. But getting a fresh start is easier said than done when her first love, the boy who once broke her teenage heart, strolls back into her life. He's every bit as sexy as she remembers, and the urge to melt back into his arms almost makes her forget how devastated she was when he took off without a word. Almost.
Left with no choice, Luke Daley did what he had to do, leaving town to earn enough money to save his broken family, though it just about broke him, too. But now he's back, running his uncle's business and trying desperately to forget about Mia, the girl he left behind all those years ago. When he runs into her in town, the shock of seeing her again brings an intense rush of emotions: love, guilt…and an overwhelming urge to find out if it's still as amazing between them as it used to be.
It doesn't take either of them long to give in to desire and discover the fiery passion they once shared burns hotter than ever. With each new touch, each moment of forgiveness, old hurts heal and the future they'd hoped for ten years ago becomes possible again. But their fragile connection is tested by a threat neither of them saw coming—a threat that could end their second chance before it even gets started.
Add Forgiven by Garrett Leigh to Goodreads: https://www.goodreads.com/book/show/53998547-forgiven

Operation K-9 Brothers by Sandra Owens (Operation K-9 Brothers, #1)
*Romantic Suspense, eBook & Audiobook on-sale January 25, 2021 / MMP on-sale February 9, 2021*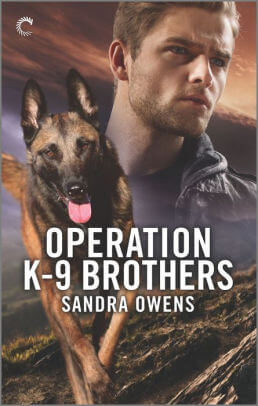 Navy SEAL Jack Daniels (save the jokes, he's heard them all) and his trusty Belgian Malinois sidekick, Dakota, are back home in Asheville, North Carolina, after a bomb left them scarred. Unable to accept that he'll never be able to return to his team, Jack is looking for a miracle. What he isn't looking for is a permanent relationship, though he's open to a no-strings distraction at the magic hands of gorgeous local potter Nichole Masters.
Nichole is on a losing streak with men. Her ex-boyfriend won't stay gone, a competitor is out to ruin her business and even her rescue pup, Rambo, is refusing to get in line. A chance run-in with a navy SEAL turned canine companion trainer might solve the dog problem. The fact Jack is easy on the eyes doesn't hurt, either.
But when Nichole feels like she's being watched, Jack is the only person she can turn to. He's a protector and problem solver by nature and training. Accepting his protection is one thing—Nichole didn't count on falling in love.
Add Operation K-9 Brothers by Sandra Owens to Goodreads: https://www.goodreads.com/book/show/55220412-operation-k-9-brothers
Custom Made by Chantal Fernando (Fast & Fury, #2)
*Contemporary Romance eBook, MMP & Audiobook on-sale March 30, 2021*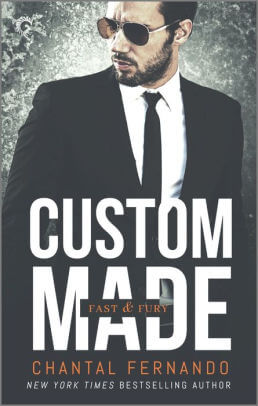 Cameron Davies has the job she's always wanted—designing custom motorcycles at Fast & Fury. No way is she going to screw this up. But when her wild, sexy one-night stand ends up being the shop's new VIP client, her life is suddenly turned on its head.
Orion Stenton radiates power, danger and, most of all, sex. His lavish lifestyle is fraught with dangers for Cam—and a far too intimate link to her past. She has to keep things professional, but it's impossible to forget the feel of him or the way he whispers her name.
The connection between them demands far more than a quick fling. But when Cam's past puts Orion in danger, she must face her demons if she's going to save them both.
Add Custom Made to Goodreads: https://www.goodreads.com/book/show/55282543-custom-made
Hot Copy by Ruby Barrett
*Contemporary Romance eBook on-sale April 13, 2021*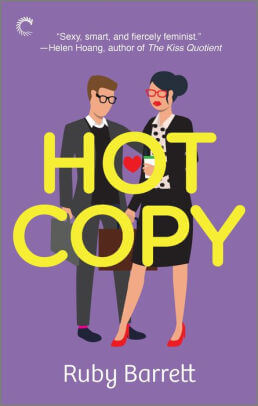 A meet cute gone wrong is the start of a surprising courtship in this fresh, modern take on the workplace romance from debut author Ruby Barrett
Corinne Blunt knows what people think of her—she's an icy, unapproachable executive. It's the price she's had to pay to get to the top. But there's knowing you have a reputation in the office, and there's hearing your new intern laugh when someone calls you "Blunt the C*nt" in the elevator on his first day.
She'd hoped to finally find an ally in Wesley Chambers, but she's not about to let him off the hook for joining the office boys' club. Taking refuge in the professional boundaries between them, she relegates Wes to assistant work—which would do the trick, if he weren't so eager to prove he's a decent human being.
Wes is sincerely apologetic, insisting it was a misunderstanding, and to her surprise, Corinne believes him. Being forced to work together was one thing, but long hours at the office with what turns out to be a kind, thoughtful man soon has their business relationship turning personal, and things get complicated—fast. Could this be something more serious than either of them dared to hope for? Or is their relationship just playing into the harmful power dynamics Corinne's had to endure her entire career?
Add Hot Copy by Ruby Barrett to Goodreads: https://www.goodreads.com/book/show/54228603-hot-copy
The Sweetest Charade by Jadesola James
*Contemporary Romance eBook on-sale June 22, 2021*
While the official book description isn't available just yet, Carina Press wanted to make sure this fake relationship romance between a gruffly stodgy professor and an online influencer with hidden depths was on everyone's radar early.
The Sweetest Charade is Jadesola's debut novel and she will also be writing for Harlequin Presents. Jadesola wrote about the experience of getting the call from Harlequin: https://www.writeforharlequin.com/i-got-the-call-meet-new-presents-and-carina-press-author-jadesola-james/
Add The Sweetest Charade by Jadesola James to Goodreads: https://www.goodreads.com/book/show/55764843-the-sweetest-charade
About Carina Press
Carina Press is Harlequin's digital-first adult fiction imprint; all our titles publish first in digital, with select releases in audio and print as well. Since its inception as the first digital imprint within a traditional publishing house, Carina Press has been an industry leader, publishing a broad range of romance.Website | Twitter |

Giveaway 1#: 

Carina Press Prize Pack of Must-Read Romances!
One (1) recipient will receive one (1) eBook copy of each of the following titles:
Custom Built by Chantal Fernando
Here to Stay by Adriana Herrera
Mine to Keep by Rhenna Morgan
Hate Crush by Angelina M. Lopez
Headliners by Lucy Parker
Dirty Tactics by Emma Salah
Protective Instinct by Tricia Lynne
**Giveaway must be limited to North American entrants!**"
To enter Giveaway: Please complete the Rafflecopter form and

Leave a comment with your thoughts on the books spotlighted here, tell us which one(s) grabbed your attention & why?
BONUS GIVEAWAY: 

Manuscript Critique

 (Maximum 50k words; worth $500 USD)
Is your dream to write a romance of your own? Do you want to take your writing to the next level in 2021?
Award-winning Harlequin author and writing coach Jennifer Hayward, whose books have been published in 31 countries and 25 languages, is offering a manuscript critique so you can put your best foot forward in your next submission. (Maximum 50k words; worth $500 USD.
jenniferhaywardcoaching.com
To Enter: 
Leave a comment below (Reference Manuscript Critique)  
Entrants must have a partial or full manuscript ready to submit by 01/31/2021.
Enter Daily to increase your chance of winning.
One winner will be chosen by author Jennifer Hayward from entries submitted 
between Dec 13 to Dec 31 2020.


Be sure to stop by everyday from Dec 13 to Dec 31 2020 for a chance to win: Box-O-books, Gift Cards, Audio books, Signed book bundles, A Manuscript Critique, Author Swag & more!