Welcome to Harlequin Junkie's
4th
Annual

Reader Appreciation
#BOOKMAS
EXTRAVAGANZA!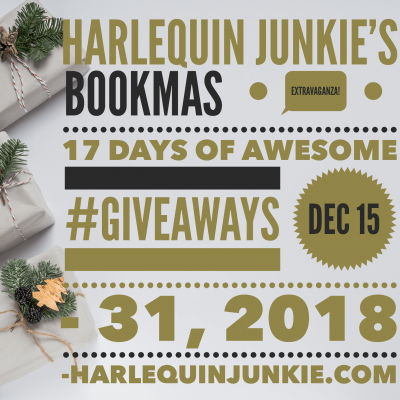 HJ's Bookmas Extravaganza is our annual celebration of YOU, our loyal and engaged readers of Harlequin Junkie blog and the romance community.

We would like to say Thank You for all you do; for all the tweets, shares, comments and for the fabulous job you do of spreading the word on all things bookish!! We <3 You!

On the 12th Day of #Bookmas…
Entangled Publishing gave to me:

 Entangled tote bag filled with goodies.
A spotlight on a few upcoming 2019 Entangled Publishing titles:

Tomboy by Avery Flynn – 2/18/19
Don't miss the next installment of the USA Today bestselling romantic comedy series and find out what happens when the whole town thinks Fallon Hartigan slept with the most hated man in Harbor city.

The Last Letter by Rebecca Yarros – 2/26/19
Beckett,
If you're reading this, well, you know the last-letter drill. You made it. I didn't. Get off the guilt train, because I know if there was any chance you could have saved me, you would have.
I need one thing from you: get out of the army and get to Telluride.
My little sister Ella's raising the twins alone. She's too independent and won't accept help easily, but she has lost our grandmother, our parents, and now me. It's too much for anyone to endure. It's not fair.
And here's the kicker: there's something else you don't know that's tearing her family apart. She's going to need help.
So if I'm gone, that means I can't be there for Ella. I can't help them through this. But you can. So I'm begging you, as my best friend, go take care of my sister, my family.
Please don't make her go through it alone.
Ryan
One letter was all it took for Beckett Gentry to fall for Ella MacKenzie, his buddy Ryan's sister. Through her letters, Ella spoke to his heart, fueled his dreams, and made his days in Afghanistan bearable. Until Ryan's life ended…and a new letter arrived. Determined to honor his buddy's request to watch over Ella, Beckett heads to Colorado—holding his identity secret—and finds the family he never thought he'd have…until the truth emerges.

Nothing But Trouble by Amy Andrews – 4/30/19
WANTED: BACHELORETTES WILLING TO LEAVE THE CITY RAT RACE TO LIVE AND LOVE IN CREDENCE, COLORADO, WHERE THE HOUSING IS CHEAP, EMPLOYMENT OR ASSISTANCE WITH SETTING UP A BUSINESS IS GUARANTEED, AND THE MEN ARE PLENTIFUL. COME AND FALL IN LOVE WITH CREDENCE.
Retired all-star quarterback Wade Carter is looking forward to the anonymity of his small home town. Just the perfect place to hide away. A place where everyone knows his name and nobody wants his autograph and, most importantly, there aren't any single women.
But now the crazy little town is advertising to bring in more women?! Not on his watch.
Cecilia Morgan doesn't want to accompany her boss to rural Colorado. Not one little bit. She sold her soul to the inconsiderate, self-centred man-baby five years ago and she's finally given him her two weeks notice. Not to be deterred, Wade offers CC a big, fat bonus to stay for the summer and help him with the book.
And he expects her to help him thwart the town's ad that's gone viral?! Not for a second.
With bus loads of women arriving daily, CC finally has a plan for the ultimate revenge…

The Trouble With Cowboys by Victoria James – 3/26/19
When Tyler Donnelly left Wishing River, Montana eight years ago after a violent argument with his father, he swore he'd never come back. But eight years is a helluva long time, and when he gets the call that his father is seriously ill, guilt and duty drive him back to his hometown. But not everything is as he remembers. The family ranch is run-down, his father refuses to acknowledge him, and Lainey Sutton is all grown up now and still off-limits.
Lainey is done with cowboys. Especially the kind who break their father's heart or think they can just walk-no, saunter-back into town looking even better than all her teenage fantasies. But as much as she tries to avoid this cowboy, the more she sees how much he and his father need her to help them heal past hurts. She'll show Ty what it means to be part of a small-town and part of a family again before her rising career takes her away for good.

Entangled Publishing is an independent publisher of romantic fiction, in both the adult and young adult markets. Since its first release in July 2011, Entangled has published more than 1,200 titles, including the #8 bestselling book of 2012 by Jennifer Probst, The Marriage Bargain, as well as the blockbuster YA hit Obsidian by Jennifer L. Armentrout which was recently signed for a major motion picture to begin production in the Spring of 2017. Entangled has since grown to thirteen imprints, with 57 titles appearing on the USA Today Bestsellers list and 17 titles on the New York Times Bestsellers list. Currently, Entangled releases approximately 20-35 titles per month in digital first format and 4 per month in simultaneous print and e formats. Website


GIVEAWAY:

Entangled tote bag filled with goodies noted below:
A UNIFORMS sexy man calendar
6 audiobooks featuring men in uniforms: Tessa Bailey, Laura Kaye, Gina Maxwell, Tawna Fenske, Rachel Harris and Cindi Madsen
EP swag like notepad, pen, luggage tag
Bath bomb and candle
To enter Giveaway: Please complete the Rafflecopter form and

Leave a comment with your thoughts on the books spotlighted here, tell us which one(s) grabbed your attention & why?
From Naughty to Nice and Everything in between….
Be sure to stop by everyday from Dec 15 to Dec 31 2018 for a chance to win: Box-O-books, Gift Cards, Kindle, Audio books, Signed book bundles, Author Swag & more!