Wrangler's Rescue (The Montana Cahills #7) by B.J. Daniels: A phone call was put through to his office.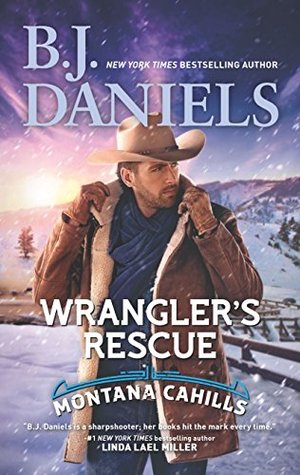 Sheriff Flint Cahill was shocked to hear the West Indies accent of the police commissioner on the Caribbean island of St. Augusta. Even more shocking and devastating was the reason for this call.
According to the police commissioner Flint's brother Cyrus Cahill is missing and and feared to have gone overboard while on a Caribbean cruise with his newlywed wife. Flint's thoughts are all over the place. This guy has to be talking about some other Cyrus Cahill. His brother is in Denver, Colorado buying a bull for the family ranch. But the photo of Cyrus and a strange woman emailed to him proved indeed his brother had been on that ship. When Flint gathered the family and close friends Billie Dee and Ashley Jo "AJ" Somerfield to deliver the tragic news everyone was distraught and overwhelmed except for AJ. She spoke right up and declared that she didn't believe Cyrus was dead. She could feel that he was alive. Only a woman in love could feel so strongly. AJ was in love with Cyrus and planned to go to the islands and find him.
Is Cyrus alive? Will AJ find him? What really happened on that cruise ship? Wouldn't you like to know? I kept turning the pages of this book to find the answers.
B.J. Daniels is a master writer of suspense and romance. She manages to keep readers guessing until the very end in her stories. Wrangler's Rescue has lots of twists and turns, action and suspense. Her characters are realistic and will have readers cheering on the good guys and booing the bad guys. Anyone who enjoys reading great romance with lots of action and suspense will love this book. I know I did.

Book Info:

Publication: November 20th 2018 | HQN Books | The Montana Cahills #7
She'll risk everything to bring her cowboy back home…
One week ago, Cyrus Cahill told Ashley Jo "AJ" Somerfield that he'd be back in her arms by the weekend. He just needed to buy a bull for his ranch, and then they'd pick up where they left off after that romantic ride through the foothills. But now he's gone missing and everyone—even the sheriff—believes he's dead.
Everyone…but AJ. She suspects foul play and she won't rest until Cyrus is back home in Gilt Edge, right where he belongs. Because Cyrus isn't the kind of cowboy who breaks a promise. And since she's not the kind of woman who gives up on her man, AJ will risk anything to help bring him home…even her own life.
Don't miss this suspenseful conclusion of The Montana Cahills series from New York Times bestselling author B.J. Daniels.