Welcome to Harlequin Junkie's
5th
Annual

Reader Appreciation
#BOOKMAS
EXTRAVAGANZA!
HJ's Bookmas Extravaganza is our annual celebration of YOU, our loyal and engaged readers of Harlequin Junkie blog and the romance community.
Thank You for all you do; for all the tweets, re-post, shares, comments. We <3 You!
From Naughty to Nice and Everything in between….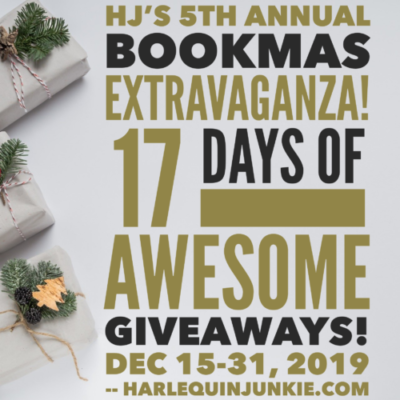 On the 3rd Day of #Bookmas…
Carina Press gave to me…. 

A chance to win $25 Amazon Giftcard 
In the spotlight today…
A preview of upcoming 2020 Carina Press titles:

HEADLINERS by Lucy Parker (London Celebrities, #5)
eBook on-sale: January 20, 2020 MMP on-sale: January 28, 2020. Genre: Contemporary Romance
Sparks fly when two feuding TV presenters are thrown together to host a live morning show in Lucy Parker's latest enemies-to-lovers contemporary romance.
He might be the sexiest man in London, according to his fan site (which he definitely writes himself), but he's also the most arrogant man she's ever met.
She might have the longest legs he's ever seen, but she also has the sharpest tongue.
For years, rival TV presenters Sabrina Carlton and Nick Davenport have traded barbs on their respective shows. The public can't get enough of their feud, but after Nick airs Sabrina's family scandals to all of Britain, the gloves are off. They can barely be in the same room together—but these longtime enemies are about to become the unlikeliest of cohosts.
With their reputations on the rocks, Sabrina and Nick have one last chance to save their careers. If they can resurrect a sinking morning show, they'll still have a future in television. But with ratings at an all-time low and a Christmas Eve deadline to win back the nation's favor, the clock is ticking—and someone on their staff doesn't want them to succeed.
Small mishaps on set start adding up, and Sabrina and Nick find themselves—quelle horreur—working together to hunt down the saboteur…and discovering they might have more in common than they thought. When a fiery encounter is caught on camera, the public is convinced that the reluctant cohosts are secretly lusting after one another.
The public might not be wrong.
Their chemistry has always been explosive, but with hate turning to love, the stakes are rising and everything is on the line. Neither is sure if they can trust these new feelings…or if they'll still have a job in the New Year.

HOUSE RULES by Ruby Lang (Uptown, #3)
eBook on-sale: February 10, 2020. Genre: Contemporary Romance
ROOMMATE WANTED to share a gorgeous sun-filled apartment in Central Harlem. Must love cats. No ex-husbands or wives need apply.
Seventeen years ago, different dreams pulled Simon Mizrahi and Lana Kai apart. But when Lana takes a position as a chef back in Manhattan, her apartment search puts her right in her ex-husband's path. Music teacher Simon is also hunting for a new place to live, and when Lana proposes they be platonic roomies, well…it's not the worst idea he's ever heard.
A sunny uptown two-bedroom sounds far more appealing than the cramped, noisy space where he's currently struggling to work. Still, Simon has seen firsthand that Lana's a flight risk, so he agrees on a trial basis.
Three months. With strict boundaries.
Living together again feels wonderfully nostalgic, but when the ex-couple's lingering feelings rise to the surface, the rules go out the window.
Of course, chemistry was never their problem. But while Simon's career feels back on solid footing, Lana is still sorting out what she wants. With their trial period soon coming to an end, they'll have to decide if their living arrangement was merely a sexy trip down memory lane or a reunion meant to last.

HERS TO TAME by Rhenna Morgan (NOLA Knights #2)
eBook on-sale: March 16, 2020. MMP on-sale: March 31, 2020. Genre: Contemporary Romance
Book two of NOLA Knights, the heart-stoppingly sexy spin-off series by Men of Haven author Rhenna Morgan
As an avtoritet for the most powerful crime syndicate in New Orleans, Kir Vasilek doesn't act without purpose, doesn't speak without thought and never, ever loses his cool. The lives of his brothers, his family, depend on it. But then Cassie McClintock strolls back into his life, and staying cool is next to impossible. Cassie was the one who got away—and Kir is willing to break all his own rules to keep it from happening ever again.
It's one thing to report on the Russian mafia; it's quite another to sleep with one of them, especially one as dangerous, and as sinfully sexy, as Kir Vasilek. Even though the information he once provided helped make her career—and the memory of his touch still keeps her up at night—Cassie knows too much about his world to go down that path.
But when Kir reaches out for help after a rival family comes for one of his own, Cassie doesn't want to say no, either to investigating a gruesome murder or to the heat that pulls her right back into his arms…and his heart. Taming Kir—and helping to save the family she's come to call her own—is not the story she thought she'd write, but it's the one she's determined will get a happy ending.
Hers to Tame is the highly anticipated follow-up to His to Defend. And don't miss Roman's story in Mine to Keep, coming soon from Rhenna Morgan and Carina Press.

TEMPER by Chantal Fernando (Knights of Fury, #3)
eBook on-sale: April 20, 2020. MMP on-sale: April 28, 2020. Genre: Contemporary Romance
New York Times bestselling author Chantal Fernando returns to the Knights of Fury series with her most complicated hero yet. He may be the epitome of cool, but this MC president isn't called Temper for nothing…
Every year, the hot, tatted biker comes into Abbie's bar, orders whiskey and asks her out. Every year, Abbie turns him down. After all, dating a man that goes by Temper seems like a really bad idea, no matter how attracted she is to him.
But this year is different. Abbie's different. Older, wiser and tired of being stuck behind the bar in a sleepy town. This year, she's ready for whatever adventure the sexy but sweet biker has in store for her.
Or so she thinks…until an elegant candlelit dinner ends with a dead body.
Now Abbie finds herself on the ride of her life, whisked away to the big city in Temper's protective custody. She should be scared, but—despite his nickname—it's clear the last thing Temper would ever do is hurt a hair on her head. And when danger catches up with them, Abbie soon realizes that holding tight to her man while straddling a Harley may be the safest place of all.

HATE CRUSH by Angelina M. Lopez (Filthy Rich, #2)
eBook on-sale: June 29, 2020. MMP on-sale: June 30, 2020. Genre: Contemporary Romance
Rock star Aish Salinger, caught drunk on video, unintentionally answers one of rock's great mysteries: Who is the sexy lady he sings about in his band's breakout hit? The song, he slurs to the world, is about Princess Sofia, a wild child princess from a small Spanish kingdom. They fell in love ten years ago, working together for three months on his uncle's California vineyard.
The reveal goes viral and couldn't come at a worse time for Princesa Sofia Maria Isabel de Esperanza y Santos, who is just two weeks from the launch of her winery meant to save her kingdom, the Monte del Vino Real. The wine world is badmouthing her life's goal as a rich princess' party trick. And the rest of the world was ignoring her efforts – until Aish's announcement.
The chaos presents an opportunity: if they fake the relationship that the world is clamoring for during her one-month winery launch, the attention could save his faltering career and her dead-before-its-begun winery. All Sofia has to do is spend a month — in her vineyards, in the winery she built, and in the kingdom she desperately wants to save — faking an attraction to a man she hates more than any other. Easy.


Carina Press is Harlequin's digital-first adult fiction imprint, publishing first in digital, with releases in audio and print as well. We offer royalty rates competitive with other digital publishers, offer authors consultation on cover art, back cover copy, and titles, and provide incomparable editorial support.
Our mission is to connect readers with authors who write the stories they want to read, and the stories they want to talk about and recommend. Carina Press publishes books from talented authors in all subgenres of romance, including contemporary, paranormal, science fiction, fantasy, and more. We welcome romances of all heat levels, featuring couples (or multiples) from all walks of life. We also publish mysteries of all flavors—from cozies to thrillers—both with and without romantic elements. We strive to create romance and mystery lists comprised of stories written by, for and about people from diverse backgrounds and of all genders and sexual identities. We want many voices to be reflected in the books we publish, and hope all authors will consider making Carina Press their publisher of choice.


Giveaway:

A $25 Amazon Giftcard. 
To enter Giveaway: Please complete the Rafflecopter form and  

Leave a comment with your thoughts on the books spotlighted here, tell us which one(s) grabbed your attention & why?

a Rafflecopter giveaway



Be sure to stop by everyday from Dec 15 to Dec 31 2019 for a chance to win: Box-O-books, Gift Cards, Audio books, Signed book bundles, Author Swag & more!