In Best Man by Katy Evans, Being stressed out is normal for a bride-to-be, right? With Lia's wedding to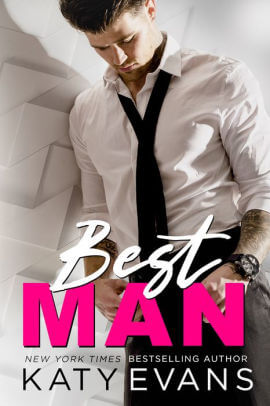 her long-time boyfriend Aaron in a matter of hours, she's trying to make sure everything on her long to-do list is checked off. Including wrangling Aaron from his frat boy tendencies. What Lia didn't count on? Her fiance forgetting their wedding rings back at his apartment. Five hours away. So with no other choice, she prepares to leave immediately to grab the rings.
"Aaron. Please don't tell me you forgot the rings," I whisper.
A pause. Then: "I forgot the rings."
…For a moment, I feel struck. Like he actually punched me. In the heart.
But Aaron, still drunk from his bachelor party, unexpectedly sends his best friend–and best man–Miles Foster with Lia on the long drive. A man who likes nothing more than to aggravate her. Not sure if they can manage to drive to Aaron's apartment without killing each other first, she tries to ignore the admittedly good looking behemoth of a man sitting next to her. But Lia finds herself remembering when they first met in college. Before all the antagonizing started. And after a bunch of issues leave her and Miles at a standstill in the snowy conditions, things begin to unintentionally heat up between them.
"Why do you think no one is good enough for you?"
…"Not true. I have met someone."
"You have? Why didn't you bring her to the wedding, then?"
"Oh, she'll be at the wedding, all right," he says, as I venture a look up at him and his eyes capture mine. They're darker than I've ever seen them. "She's the bride."
Bound to push some reader's buttons but still full of the drama, bantering, and incredible romantic tension I crave in a Katy Evans novel, Best Man was one angsty good time.
'I know that you can love someone without being their soul mate. And I know that no matter how odd the circumstances, when you find love, you need to hold on to it, treasure it, never let it go.'
I'm going to start off by saying that there *is* cheating in this romance. Although it's not quite what or who you expect it to be after reading the book blurb. So fair warning to readers who avoid infidelity in books at all cost. That being said, Katy Evans pulled out all the stops with the bickering-type of dialogue between Lia and Miles, something that had me laughing right out loud and gasping at some of the quips they launched each other's way. But you could kind of tell that they were protesting a bit *too* much about how they supposedly hated each other. And as we got to see their past unfold, bit by bit through flashback passages, it all became clear where the attitude came from.
Miles and Lia were both pretty easy to like, although they had their moments. (lol) Miles was broody, antagonizing to Lia–there's a reason–and was insanely smart and sexy. Classic Katy Evans hero. Told from Lia's POV, we got to see her super stressed out over her wedding and keeping her groom-to-be out of trouble. But she proved that even though she was an emotional wreck over it, she still mostly kept her wits about her and showed her lovely, caring side. Even while Lia's life was basically falling apart. I won't get into more important details about her and Miles's trek back to get the rings. But there were several rather comical predicaments they got into involving lots of snow–including a snowball fight, a roadside mishap, and several revelations they learned along the way.
Delicious forbidden attraction met wedding chaos in Best Man, the latest seductive book by Katy Evans that showed us just how complicated relationships can truly be.
Book Info:

Publication: Published December 10th 2019 | Katy Evans |
The latest standalone novel from bestselling author Katy Evans.
When the wedding of your dreams is just around the corner, everything needs to go as planned. Only problem is, the groom didn't get the memo.
Aaron forgot the rings, and Lia is determined to make the long drive home to get them in time for their "I do's."
But there's a catch. There always is with Aaron, isn't there?
Aaron is too hungover to come, and sends a replacement.
The best man.
Miles Foster. The cocky, arrogant, sexy best man…and the last person Lia wants to be trapped in a car with for hours.
But Aaron insists, and Lia wonders if there's another reason Aaron wants Miles tagging along—aside from sticking her with a hot, surly babysitter.
Yet how bad can it be? It'll be over before she knows it, and she'll never see him again. Just like in college.
But when secrets are revealed, and Lia's whole world is turned upside down, she realizes she's been living a lie—and so has her groom.
Miles is supposed to be the best man at her wedding.
But what if he is simply the best man she has ever known? The best man for her?