Welcome to Harlequin Junkie's
5th
Annual

Reader Appreciation
#BOOKMAS
EXTRAVAGANZA!
HJ's Bookmas Extravaganza is our annual celebration of YOU, our loyal and engaged readers of Harlequin Junkie blog and the romance community.
Thank You for all you do; for all the tweets, re-post, shares, comments. We <3 You!
From Naughty to Nice and Everything in between….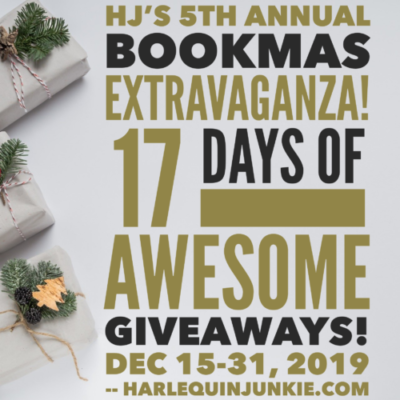 On the 7th Day of #Bookmas…
SMP Romance gave to me…. 

A chance to win a Box-o-Books!!
In the spotlight today…
A preview of upcoming SMP Romance 2020 titles:

Scot Under the Covers by Suzanne Enoch (1/28/20)
When a resourceful English lady and a hot-blooded Highlander join forces to trick a scoundrel, every rule will be broken!
Miranda Harris is known for her charm, wit, and ability to solve any problem she encounters. But when her brother lands neck-deep in gambling debt to a crafty villain and Miranda is subsequently blackmailed into marrying him, she must enlist the help of the devil himself to save the family honor—and herself.
Devilishly handsome Highlander Aden MacTaggert knows next to nothing about the ways of the ton, but he most certainly knows his way around gaming halls and womens' hearts. Still, Aden is not sure how he'll manage to find a Sassenach bride in time to save his family's inheritance. When his almost sister-in-law Miranda comes to him for assistance, he proposes a partnership: She will help him navigate London society and he'll teach her everything about wagering…and winning back her freedom. The beautiful, clever lass intrigues Aden—but is she playing her own game, or are the sparks between them real? He is accustomed to risking his pocket. But betting on Miranda's love is a game he can't afford to lose. . .

Wild, Wild Rake by Janna MacGregor (2/25/20)
Her first marriage was an epic fail.
Lady Avalon Warwyk never did love her husband. Arrogant, selfish, and cruel, it's a blessing when she's widowed and left to raise her son all by herself. Finally, Avalon can live freely and do the work she loves: helping fallen women become businesswomen. She's lived these past ten years with no desire to remarry—that is, until Mr. Devan Farris comes to town.
Can he convince her to take another chance at happily ever after?
Devan Farris—charming vicar, reputed rake, and the brother of Avalon's son's guardian—is reluctantly sent to town to keep tabs on Avalon and her son. Devan wishes he didn't have to meddle in her affairs; he's not one to trod on a woman's independent nature and keen sense of convictions. But she'll have nothing to do with vicar with a wild reputation—even though he's never given his heart and body to another. If only he could find a way to show Avalon who he really is on the inside—a good, true soul looking for its other half. But how can prove that he wants to love and care for her. . .until death do they part?

The Fiery Crown by Jeffe Kennedy (5/26/20)
A queen and her rebel prince turn from enemies to lovers while evil forces plot to destroy them in this lush romantic fantasy.
Following The Orchid Throne, Conri and Lia's marriage of convenience has turned into an uneasy alliance. If only the two leaders could agree on something. Driven by revenge, Conri wants to attack Emperor Anure before the tyrant gets to them first. But Lia needs to keep Calanthe safe, and refuses to sacrifice her kingdom. Their ongoing battle for control has built up tension they're both more than happy to release in bed, the only place where they find common ground. But Conri and Lia are developing deeper feelings for each other that are complicating matters. In the second book in the Forgotten Empires trilogy, Conri and Lia find their loyalties torn, and with Emperor Anure's threat growing, will they be able to risk everything with each other before it's too late?

The Wrong Mr. Darcy by Evelyn Lozada (6/9/20)
A charming, multicultural, Pride and Prejudice inspired romantic comedy from celebrity Evelyn Lozada and Holly Lorincz.
When Hara Isari meets basketball rookie Derek Darcy, she finds him handsome, but obnoxiously proud and with a major chip on his shoulder. He is completely indifferent to her dedication to her career as a sports writer. When a twist of fate brings them both together, Hara suddenly finds herself off her game and trying to keep up.
In this sparkling Pride and Prejudice inspired romantic comedy, Lozada and Lorincz show us the error of judging by first impressions and the beauty of family, friendship and love. This book will charm you through the last page.

A Sweet Mess by Jayci Lee (7/14/20)
Korean-American author Jayci Lee delights with this delicious and light-hearted romantic comedy that readers will devour and ask for more.
Aubrey Choi loves living in her small town nestled in the foothills of California, running her highly successful bakery away from the watch of her strict Korean parents. When a cake mix-up and a harsh review threaten all of her hard work and her livelihood, she never thought the jaded food critic would turn out to be her one-night stand. And she sure as hell never thought she'd see her gorgeous Korean unicorn again. But when Landon Kim waltzes into her bakery trying to clean up the mess he had a huge hand in making, Aubrey is torn between throwing and hearing him out.
When she hears his plan to help save her business, Aubrey knows that spending three weeks in California wine country working with Landon is a sure recipe for disaster. Her head is telling her to take the chance to save her bakery while her heart—and her hormones—are at war on whether to give him a second chance. And it just so happens that Landon's meddling friends want them to spend those three weeks as close as possible…by sharing a villa.
When things start heating up, both in and out of the kitchen, Aubrey will have to make a choice—to stick it out or risk her heart.

*Please note that the summaries for the spotlight titles are not finalized copy.

SMP Romance: Founded in 1952 by Macmillan in London, St. Martin's Press was for many years primarily a distributor of Macmillan books. However, particularly during the last 30 years, St. Martin's grew rapidly as a publisher in its own right, finally becoming one of the seven largest publishers in America. From their home in the Flatiron Building in New York, St. Martin's publishes books under four imprints: St. Martin's Press, Griffin, Minotaur, and Thomas Dunne Books. Website | Twitter


US – Giveaway:

SMP Romance Prize Pack
Paperback Books include:
Christmas Angels by Nancy Naigle
Once Upon a Cowboy Christmas by Soraya Lane
The Widow of Rose House by Diana Biller
This Earl of Mine by Kate Bateman
The Orchid Throne by Jeffe Kennedy
How to Love a Duke in Ten Days by Kerrigan Byrne
A Cowboy Like You by Donna Grant
Handle With Care by Helena Hunting
Lethal Nights by Lora Leigh
Highland Jewel by May McGoldrick
To enter Giveaway: Please complete the Rafflecopter form and  

Leave a comment with your thoughts on the books spotlighted here, tell us which one(s) grabbed your attention & why?

a Rafflecopter giveaway



Be sure to stop by everyday from Dec 15 to Dec 31 2019 for a chance to win: Box-O-books, Gift Cards, Audio books, Signed book bundles, Author Swag & more!