In Fatal Accusation (Fatal #15) by Marie Force, Sam Holland and her husband Nick Cappuano can't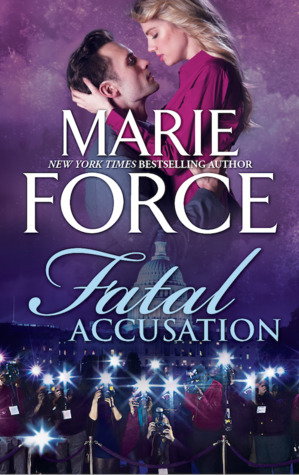 seem to catch a break. After a devastating loss to their family just a few short weeks ago, they are figuratively holding their breath–along with the nation–after the news that the President has been accused of having an affair. Oh, and there's also a newborn baby who could potentially be his. For Vice President Nick to find out that it is a member of the President's staff who is the supposed mistress is yet one more scandal he has to face down. One which has the capacity to push him into the role if the President himself should have to leave office.
'She was strangely calm about the possibility of their world being turned upside down if Nick was forced to assume the presidency. If that happened, they'd deal with it like they dealt with everything else. Together.'
For police lieutenant Sam, the accusations against the President couldn't come at a worse time. And it becomes more complex when a murder has to be solved that's tangled up in the web of lies and deceit around the supposed affair. Sam is never one to back down from a case. This one has her and her detectives chasing down leads, regardless of how small they might be. And that might just be the key to unraveling the whole thing. Something Sam desperately wants to do. Not only to take the pressure off her beloved husband as he waits to see if he's going to have to lead the nation after such a huge spectacle. But, as always, to find justice for those taken too soon who can no longer speak for themselves.
"Thank you for loving me. I know it's not always easy."
"Samantha… Loving you is the easiest thing I've ever done. It's easy like breathing."
What had she ever done to deserve the love of this extraordinary man?
Danger, lies, murder, and scandals galore, Fatal Accusation was a thrilling new novel in Marie Force's ever popular Fatal series. And oh what mayhem she threw Nick and Sam's way this time!
'Sam shook her head. Sometimes the depravity she saw on the job was almost too much to bear.'
If you've been keeping up with each installment in the Fatal series, you know that the previous book, Fatal Reckoning, was an emotional roller coaster that had readers darn near sobbing. This installment, I must say, even though Sam, Nick and their family were working through their grief, was…not lighthearted, per se. But in comparison, our power couple were finding their stride again and getting back to being their witty, incredible selves for the most part.
Somehow I forget each time I pick up a new book how fun a couple Sam and Nick are until I witness their playful bantering again. Her snarkiness and his smart and sexy quips had me laughing several times. And thankfully the romance was definitely still going strong between Nick and Sam. Even with their chaotic family and work lives. Things got only more intense when the truth about the President's alleged affair came out, which kept Nick (and Sam) on edge about whether he'd have to step in and take over. Pair that with the homicide case wrapped up in the affair scandal and it kept me glued to the pages to see what new plot twist Force would sneak in.
Built around an intriguing homicide case that sent shock waves through the White House and all of DC, Fatal Accusation is a story not to be missed by romantic suspense fans.
Book Info:

Publication: Published December 17th 2019 | HQN Books | Fatal #15
A deadly serious affair…
The story breaks as Metro PD lieutenant Sam Holland attends a dinner party with her husband, Vice President Nick Cappuano: President Nelson is accused of having an affair. More shocking still, campaign staffer Tara Weber claims the president fathered her newborn son—while the First Lady was undergoing secret cancer treatment.
When a high-profile murder case hits Sam's desk, she's shocked to uncover a connection to the presidential scandal. With the department caught up in its own internal scandals, and the chief's job hanging by a thread, Sam questions who she can trust as her team uncovers information that clouds an already-murky case. And with calls for the president to resign getting louder by the minute, Sam needs to close this case before she finds herself living at 1600 Pennsylvania Avenue…