Welcome to Harlequin Junkie's
5th
Annual

Reader Appreciation
#BOOKMAS
EXTRAVAGANZA!
HJ's Bookmas Extravaganza is our annual celebration of YOU, our loyal and engaged readers of Harlequin Junkie blog and the romance community.
Thank You for all you do; for all the tweets, re-post, shares, comments. We <3 You!
From Naughty to Nice and Everything in between….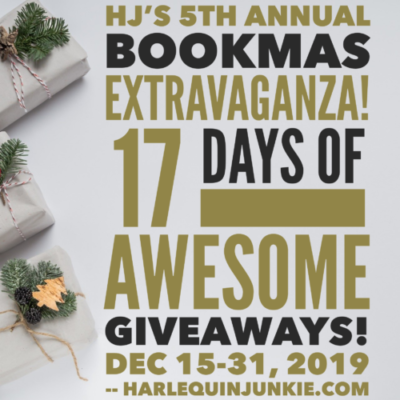 On the 9th Day of #Bookmas…
Berkley Publishing gave to me…. 

A chance to win a Box-o-Books!!
In the spotlight today…
A preview of upcoming Berkley Publishing 2020 titles:

Gabriel's Promise by Sylvain Reynard. On sale 1/7
The fourth installment in the Gabriel's Inferno series has arrived! Gabriel and Julia are now parents and settling into life with Clare but the universe throws several wrenches into their plans. A new lecturing job of the highest prestige is offered to Gabriel but he's relectant to tell her especially when it's clear she's hiding something of her own…

A Heart of Blood and Ashes by Milla Vane. On sale 2/4
Game of Thrones fans, fret no more—A Heart of Blood and Ashes is here for you! Meljean Brook writing as Milla Vane kicks off a new historical fantasy romance series with this epic tale. I can't do the description justice in this space, so go to Goodreads etc. for all the epic details but I can leave you with Barbarians! Murder! Vengeance! Warrior Queens!

From Alaska With Love by Ally James. On sale 3/3
Sara's letters were the only bright spot during Gabe's tour in Iraq. With each new correspondence he fell harder, needed her more, wanted to be with her. Now, after initially rejecting his offer to meet, she's shown up at the door of his isolated cabin in Alaska looking for…what? Gabe's not sure what made Sara change her mind, but he knows he never wants to let her go.

Not That Kind of Guy by Andie J. Christopher. On sale 4/14
State attorney Bridget Nolan is successful in all aspects of her life—except romance. But with her brother's wedding right around the corner, she wants a date and fast. Lucky for her, the legal intern is almost done with his program. Matt Kido is in total awe of Bridget, but he knows she's totally off-limits while she's his boss. The moment he no longer reports to her though, Matt decides to take a chance. An impulsive decision takes them to Las Vegas where, as the saying goes, what happens in Vegas, stays in Vegas. Unless you put a ring on it.

Butterfly Bayou by Lexi Blake. On sale 5/5
New series alert! In need of a fresh start, Lila Daley retreats to Papillon, Louisiana, a tiny town on the bayou. Sure she's greeted by a gator, finds herself in the middle of golf cart wars, and unwittingly adopts a scruffy dog, but Lila remains undaunted. She's focused on running the town's medical clinic. As a single dad, Sheriff Armie LaVigne embraces routine. But there is nothing routine about the gorgeous fish out of water that is Lila Daley. town's newest resident. In no time at all, Armie knows Lila is the woman for him and he plans to win her heart. But when the past threatens their happiness, Armie will have to decide if he has the courage to trust Lila enough to find a true happily ever after.

About Penguin – Berkley
An industry leader in commercial and genre fiction, Berkley has a rich tradition of discovering new talent, defining emerging trends, and building authors and series into global franchises. With Berkley's dedicated focus and guidance many bestselling authors have grown into international brand names, including Nora Roberts, William Gibson, Laurell K. Hamilton, Jim Butcher, and Charlaine Harris. We're proud to publish Jane Green, Jayne Ann Krentz, Karen White, Patricia Briggs, Christine Feehan, Stephen Donaldson, Maya Banks, Susan Meissner, Catherine Anderson, Clare Mackintosh, Julie Garwood, and Fiona Barton, among others.
Our expertise in women's fiction, romance, science fiction/fantasy, and mystery/suspense makes us uniquely suited to introduce a new generation of popular novelists and to reinvigorate the publishing programs for established bestselling authors. Website | Twitter

US – Giveaway:

Berkley Romance Prize Pack
Paperback Books include:
1 copy of WELL MET
1 copy of NOT THE GIRL YOU MARRY
1 copy of FUMBLED
1 copy of BRINGING DOWN THE DUKE
1 copy of UNBREAK ME
1 copy of FAKER
1 copy of WAITING FOR TOM HANKS
1 galley of THE BROMANCE BOOK CLUB
To enter Giveaway: Please complete the Rafflecopter form and  

Leave a comment with your thoughts on the books spotlighted here, tell us which one(s) grabbed your attention & why?

a Rafflecopter giveaway



Be sure to stop by everyday from Dec 15 to Dec 31 2019 for a chance to win: Box-O-books, Gift Cards, Audio books, Signed book bundles, Author Swag & more!