The Scrooge of Loon Lake by Carrie Nichols : Loon Lake is a small town but it is so big in Christmas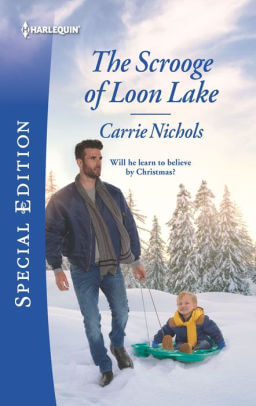 spirit. They have a lovely tree lighting ceremony for Christmas as well as a big Christmas carnival.
Desmond "Des" Gallagher is a particularly grumpy, Grinchy Scrooge. No Christmas for him! Nothing to do with Christmas for him! Until…. Natalie Pierce and her five-year-old son, Sam stepped into Des' barn where he crafted his glass masterpieces. Natalie's son was severely injured in an accident that killed Sam's father, Natalie's husband. Sam has a brain injury and cannot speak and had to learn how to walk again. Due to his balance issues part of his therapy is hippotherapy, horseback riding as a therapeutic or rehabilitative therapy.
Unfortunately the local hippotherapy program is struggling financially so Natalie is planning an auction to raise money for the program. She is hoping Des will create and donate some glass ornaments for the auction. She brings Des a plate of Christmas bark as a treat to help sweeten him up to say yes. Mr. grouchy Scrooge turns her down and sparks her stubborn determination to change his "no" to a "yes." One point in her favor is that Des finds himself atttracted to Natalie. How long can he hold out?
The Scrooge of Loon Lake by Carrie Nichols is the fourth book in her Small-Town Sweethearts series. This is a well-written, emotional, yet joyous story. The characters are all very likeable, even Mr. Scrooge. The two main characters Natalie and Des grow as the story unfolds, especially Des. Natalie's son Sam adds much to the enjoyment of the story as he is a very loveable character. I really liked how Natalie's love allowed Des to open his heart to love again. The road to their HEA was a little bumpy but that just added to the enjoyment of the story.

Book Info:

Publication: November 1st 2019 | Harlequin Special Edition | Small-Town Sweethearts #4
It's the most wonderful time of the year…
…with the grumpiest man in town!
The love of his life left him. The navy discharged him. So former lieutenant Des Gallagher sees no reason to celebrate Christmas—now or ever.
Yet when Natalie Pierce shows up on his doorstep, a bright light enters his gloomy existence. As Des shapes her—and her little son's—world for the better, she wonders if a scrooge could turn into the perfect Santa…