Welcome to Harlequin Junkie's
4th
Annual

Reader Appreciation
#BOOKMAS
EXTRAVAGANZA!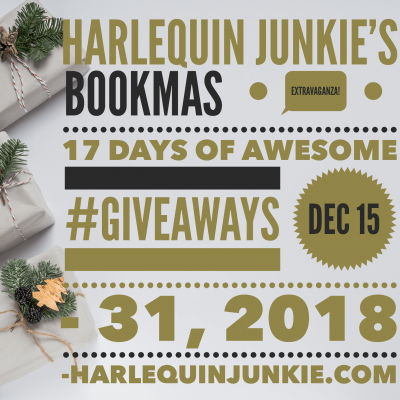 HJ's Bookmas Extravaganza is our annual celebration of YOU, our loyal and engaged readers of Harlequin Junkie blog and the romance community.

We would like to say Thank You for all you do; for all the tweets, shares, comments and for the fabulous job you do of spreading the word on all things bookish!! We <3 You!

On the 9th Day of #Bookmas…
HQN Books gave to me:

 $25 Amazon Giftcard
A spotlight on a few upcoming 2019 HQN book titles:

THE CONSPIRACY by Kat Martin (romantic suspense, January 22, 2019)
New York Times bestselling author Kat Martin raises the tension and the passion when family ambition turns deadly…
Harper Winston's brother has disappeared. Pursuing his dream of sailing the Caribbean, Michael hasn't responded to texts or emails in days. When even the Coast Guard can't find him, Harper is forced to take desperate measures. Which means going to Chase Garrett, once her brother's best friend, now the only man she can trust…or so she hopes.
As the successful owner of Maximum Security, Chase has learned to trust his gut. He knows Harper's father is mixed up in a deadly business, and suspects there's more to Michael's disappearance than meets the eye. Getting involved again with the Winstons goes against everything he stands for, yet old loyalties die hard. As the case draws him closer to Harper and deeper into the Winstons' snarled crime family, he is forced to put everything on the line to keep Harper safe…and both of them alive.

STROKE OF LUCK by BJ Daniels (Western contemporary romance, February 19, 2019)
The Sterling Ranch's season opening isn't going so smoothly. With the ranch's lodge full of guests and a Montana blizzard threatening, Will Sterling needs help—and he needs it fast. So when his childhood friend Poppy Carmichael agrees to lend a hand, he's grateful for a second chance…and more enticed by the woman she's become than he cares to admit.
For Poppy, it was supposed to be a retreat full of horse rides and hoedowns—with a side of showing Will what he's been missing all these years. But as the snow deepens outside, the guests' suspicion and mistrust turn sinister inside, catching Will and Poppy in the crosshairs.
Weathering the storm in each other's arms is all too easy for Will and Poppy, but will a confrontation with a killer mean their reunion is short-lived?

SLOW RIDE by Lori Foster (contemporary romance, March 12, 2019)
Bestselling author Lori Foster delivers her second title in her new scorching series, Road to Love!
You can't put the brakes on love…
Ronnie Ashford needs a distraction. In the morning, she has to offer arrogant, conventional Jack Crews a job and convince him not to take it. She doesn't need anyone's help, thank you very much. But tonight is all about the tall, sexy stranger who just walked in the bar—and all the delicious trouble they could get into together. Too bad just as things are heating up between them, he whispers the three little words that destroy everything: "I'm Jack Crews."
Jack is determined to connect with fiery Ronnie—in bed and out of it—but her terms are clear. If he takes the job, helping her acquire prized artifacts for her mysterious bosses, anything between them is strictly off-limits. Somehow he has to convince a woman who's never felt like she belonged that she's found her place—with him. And with the danger sparking hotter than the fire between them, it's going to be one unforgettable trip…

FORGET ME NOT by Brenda Jackson (contemporary romance, March 26, 2019)
Brenda Jackson welcomes you back to Catalina Cove, where love is waiting to be reclaimed…
Ashley Ryan never doubted that her husband, Devon, was the love of her life. Even now, three years after Devon died in a car wreck while on a business trip, Ashley can't bring herself to move on. But when her girlfriends surprise her with a getaway to beautiful Catalina Cove, Louisiana, she gets the shock of her life when she encounters a man–bearded, more rugged than before, but unmistakably her Devon.
"Ray Sullivan" moved to this quiet coastal town after waking up in a hospital with amnesia. Haunted by a life he can't remember, he's built walls around his heart and a quiet life running boat tours–a life that includes no recollection of Ashley, a woman he suddenly finds himself irresistibly drawn to. Doctors warn Ashley of the danger in forcing her husband to remember the past. Though she longs to tell him the truth, she finds herself falling all over again for a man she knows may never truly come back to her. In this place where healing and second chances are just a heartbeat away, can love take root once more?

THE WISH by Patricia Davids (amish romance, April 30, 2019)
Widow Laura Beth Yoder longs for a family of her own. So much so that she's preparing to leave the sleepy Amish town she calls home to find love. But a terrible storm washes out the creek, forcing her to wade in and save the life of an Englisch man and his adorable infant son. As they recover at the farm, the baby brings sunshine and joy, while the handsome outsider is filled with shadows…and secrets. Joshua King owes his life and his son's to Laura Beth. Still, lingering at her farm is out of the question. He must fulfill a promise he made to his estranged wife on her deathbed: to deliver their son to his Amish in-laws. With his dark past, Joshua has no other choice. But his plans never took this sweet and surprising Amish widow into account. She just might be his second chance at happiness…and love.

Harlequin is a global publisher of commercial fiction and a worldwide leader in romance fiction, with titles issued worldwide in as many as 32 languages and sold in up to 93 international markets. The company publishes more than 110 titles monthly and more than 1,300 authors from around the world. Harlequin is a division of HarperCollins Publishers, the second largest consumer book publisher in the world with operations in 18 countries. For more information, please visit Harlequin.com and Facebook.com/HarlequinBooks. Follow Harlequin on Twitter: @HarlequinBooks.

GIVEAWAY:

1 $25 Amazon Giftcard
To enter Giveaway: Please complete the Rafflecopter form and

Leave a comment with your thoughts on the books spotlighted here, tell us which one(s) grabbed your attention & why?
From Naughty to Nice and Everything in between….
Be sure to stop by everyday from Dec 15 to Dec 31 2018 for a chance to win: Box-O-books, Gift Cards, Kindle, Audio books, Signed book bundles, Author Swag & more!