Deceived (House of Sin #2) by Elisabeth Naughton: OMG! I am wrecked….totally and utterly wrecked.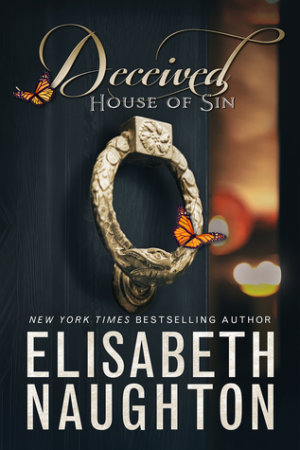 How, oh how am I going to survived until the next book???? WOW! Amazing, gut wrenching, unexpected, frightening….pick one, cause I feel all of this and more. This is the continuation of the House of Sin series and it picks up right where Forbidden left off.
Luc's hand is forced when Natalie's life is put in danger. He will do anything to keep her safe, ever if it means marrying her! But as with all great stories, these two do not ride off in to the sunset and live happily ever after. They fight, they argue, they misunderstand each other and the intent behind every move the other makes. It takes Luc's willingness to let Natalie go, something that to this point he was never able to do before, that finally get these two to stop and talk, really talk to each other.
Just as you think that things will be smooth sailing for these two love birds, we are thrown a curve ball of epic proportions! I cannot wait for this series to continue because it is simply amazing! As with book 1, there will not be a long wait, and I am glad, because, yes there is a cliffhanger, and yes you will want to scream NNNNNOOOOOOOO! But I can guarantee that this series will delight and excite with its twists, turns, and edge of your seat suspense.
Love this series! Now, I might need to curl up in a ball and rock a bit until I feel better, or until the next book, which ever comes first.

Book Info:

Publication: Published May 15th 2018 | Elisabeth Naughton Publishing LLC | House of Sin #2
Some doors were never meant to be opened…
I made a fateful mistake. I should never have peeked behind the doors into his forbidden world.
But I did, and now I'm a prisoner. Trapped by the man I thought loved. The man I once foolishly trusted. The man who, despite his lies and deception, I continue to crave.
He can melt my resolve with one rough, whispered demand, and I feel myself giving in to the desire he still stirs inside me. And yet, if I want to survive, I must find a way to escape. Because if I don't, I'm afraid I'll be consumed by a shadowy world that will ultimately destroy me.
Lost forever in his wicked House of Sin…