i on Romance:
Getting Books Into Hands
There's a pretty big news story that concerns young readers, and it's about LeVar Burton using Kickstarter to resurrect his show, "Reading Rainbow". I know it's not in the Romance genre, but I'd like to talk about the general concept of getting people to read.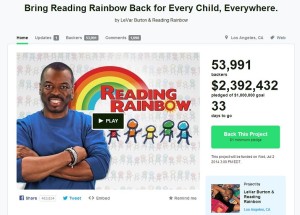 Besides "Reading Rainbow", Comic Books are a great way to get kids (in particular) to read. I know that's how my brother and husband – who both struggled in school – got into books at an impressionable age, and they both read today. That can't be said about every adult however.
This has been something that's troubled me over the last ten years or so. I'm amazed at how many people I interact with that say they "never read", and they mean it.
If you've read my bio on this page, you'll see that I'm an MMORPG gamer. In case you're not sure what that stands for, it's "Massively multiplayer online role-playing game" – the emphasis being on 'multiplayer'. There are many people there that are smart, college-educated, well-balanced people – but when I tell them some of the things I do – including review for this site, a lot of them say they haven't read a book in years. YEARS!!
At that point, I gently ask them what kind of stuff they watch on TV, and say they might like to read stuff like this or that… If they don't want to follow-up, that's their prerogative. At least I gave it a shot. And I know a lot of times they're receptive because they ask me follow up questions. I never get made fun of, because the people I talk to are my friends.
I'm also part of a few street teams, and I find that very fun. I usually take the promo books I'm given to doctor's offices – the staff really appreciate the gesture, and they're into the romance genre. They also tend to pass the books around, so the author gets the all-important word-of-mouth.
So here's my challenge: Do you have other ideas to get books into the hands of those that don't read? Have you noticed the same 'trend' in people around you? (at work, outside hobbies, etc.) What do you think? Let us know in the comments.