In Blind Faith (Sin Brothers #3) by Rebecca Zanetti, Nate and his brother's are still searching for the key that will halt death. Nate and his brother's were genetic experiments, raised in a top secret black ops military unit run by 'the commander'. They were trained to be extreme soldiers, some would call them killing machines. When they escaped, they discovered they are much more than that though. Two of Nate's brother's have found love, but one is still missing. Nate thought he had love, but when push came to shove, Audrey deserted him for the darker side. Or so Nate believes. Now Nate focuses on saving his brothers, even if it means sacrificing himself. Sometimes he feels he has no soul, that he doesn't deserve a happily ever after, but Nate has more soul and depth than he realizes.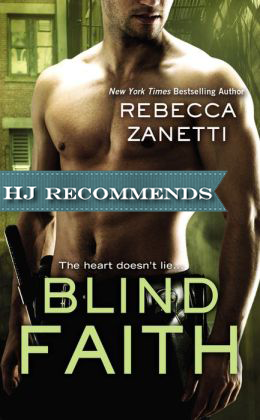 The commander wants Nate and his brothers back. The Gray brothers want answers and their lives. Audrey might be the one person who can help them. Nate won't risk his heart again, but he will risk his life. He doesn't expect to feel or to love again, he only ever felt real when he was with Audrey…but she made her choice. Both of them have secrets and neither of them trust easily. As they form an uneasy alliance the passion is still there though, lurking beneath the surface along with the danger. Old feelings are impossible to ignore though, and one night will never be enough. Can they unlock the secrets in time to save them all? Will they survive to have a second chance at love with each other? Or will the commander win?
Blind Faith is another fast paced, suspenseful Sin Brother's book by Rebecca Zanetti. The plot is intertwined and follows up from the first two books, so I highly recommend reading those first so that you can follow the whole story line. This is a unique, intriguing series and Blind Faith is another book you won't be able to put down.
The main characters, Nate and Audrey, have known each other very well before, but it's been 5 years since they've seen each other. They are both trying to protect the other, and the past haunts them both. They are both strong characters, and the development and growth they experience through Blind Faith is fantastic! Rebecca draws you in easily to their lives as Nate tries to figure out is Audrey is indeed working for the enemy, and why. The chemistry between them is hot, and Rebecca weaves this into the general plot line so well that the flow of Blind Faith is seamless. As Nate discovers the truth, so do we and it's an action packed, steamy journey!
The plot of Blind Faith is unique in that despite the unbelievability of it, it's one of those things you think just might, possibly actually happen somewhere under the radar. Rebecca manages very well to give you the creep feel that some of these characters exude! The main characters themselves are easy to feel for, especially the Gray brothers as we get to know them and their experiences better. Even Audrey, who at first is of questionable character is someone that Rebecca will draw out and make you feel for.
The secondary characters are all essential to Blind Faith, and I love the new ones we meet! There is one in particular I can't wait to see more of! They are all a good mix of people in Blind Faith, from the dark side to the light side!
Blind Faith is a second chance romance, and at the same time has is suspenseful, captivating story of the Gray brothers that is all balanced well together making Blind Faith. Rebecca gives us plot twists you won't see coming, and you can expect the unexpected in Blind Faith! I highly recommend Blind Faith if you are looking for a book that will take you on a journey that at times will make you want to close your eyes, will make your heart ache, and make you really hope for that Happily Ever After.
Book Info:

Published May 6th 2014 by Forever
A betrayal he couldn't forget . . .
For Nate Dean, love is a four-letter word. As part of a secret black-ops military unit, he and his brothers were genetically engineered by the government to be ruthless soldiers with an expiration date. They were loyal only to one another . . . until Nate laid eyes on the woman who stole his heart and blew his world apart. Now, years later, his family is still paying the price for his mistake. But as time runs out, there's only one person who can save his family: the very woman Nate swore he'd never trust again.
A love she couldn't deny . . .
The moment Audrey Madison spies Nate across a crowded ballroom, she can barely breathe. He's just as undeniably sexy as she remembers, yet there's an edge to him now that's as irresistible as it is dangerous. When he asks for her help, Audrey can't refuse. But she has secrets of her own-secrets that, if Nate ever discovers them, may cost them both their lives .