ionR: 
Are HEA-Endings Overrated? Boring Even?

Today we are discussing the possibility that happily-ever-endings are overrated among authors and readers alike. Is it possible such endings can be boring among readers? Join us today and be sure to share your thoughts with us.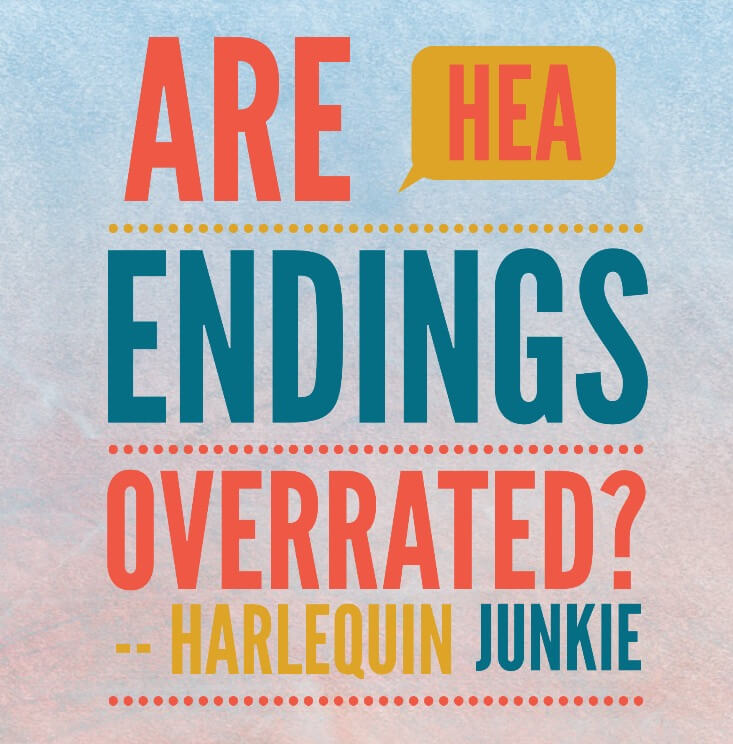 Without a single doubt have I ever thought a happily-ever-ending as 'boring' or dare I write the word 'overvalued' among readers. My childhood was spent watching countless Disney princesses fall in love with the heroes of their time. Together, both princess and hero lived a magical dream that made the young girls in my neighborhood believe in love. Yes, I love a ending that is filled with love, passion and to believe that two people are capable of spending the rest of their lives with one another.

A few weeks ago I was having a friendly discussion with a few close friends of mine both authors and reviewers alike when suddenly the topic turned to HEA-endings. I was surprised, perhaps shocked is the word I should use to describe my reaction, towards the sudden agreement that such an ending was becoming out of style. I was in disbelief that some authors (names will not be mentioned) would consider a happy ending to be growing dull.
As romance readers we expect to have a happy ending. Many publishers will not publish a romance without a favorable ending. As a professional reviewer I am required to grade a joyous ending. So why are such endings beginning to wear thin with some authors?

Well, as one bluntly pointed out to me that such endings are getting "highly predictable" and that nothing ever "changes" when reading a romance novel. A friend of mine (strictly a reader) suggested that she grew tired of the endings because she didn't consider the theme to be "realistic" to the modern-readers. Lastly, someone mentioned the fact that "men aren't able to live to hype" of romantic heroes.

I do not entirely agree with any of those statements, but I think such topics are worth examining. Am I old fashion? Possibly, but it is who I am as both a reviewer and an individual.

Regardless of what I think it is important for such topics to be made to the public because it is you guys, the readers that make the true difference.


So what are your opinions? Do you still love an HEA-ending? Or do you think romance authors/publishers should consider the possibility of new endings? Please share your thoughts with us.
Leone