Free Buzz Books Offers 20 Excerpts from Best To-Be-Published Romance Titles:

Get a first look at the buzz-worthy Romance books before they are in print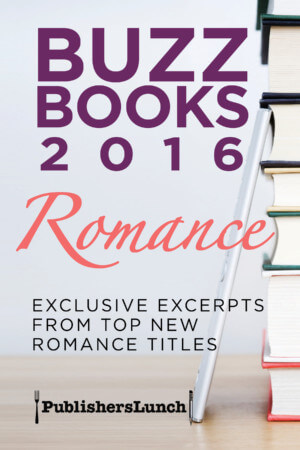 Press Release: New York, NY – JULY 7, 2016 –The best place for booklovers to discover and sample some of the most acclaimed books of the year, Buzz Books is expanding to a powerhouse publishing segment: Romance. Just in time for Romance Writers of America conference, the biggest romance book event of the year, Publishers Lunch offers excerpts from 20 of the most buzzed-about romance titles scheduled for publication this season in an exclusive, free ebook, BUZZ BOOKS 2016: Romance.

The leading romance publishers, including Harlequin, Kensington, Avon, and Berkley, have enthusiastically embraced Buzz Books. The authors excerpted here are bestselling, award-winning, and irresistible. Readers will discover new series, catch up with the latest installments from beloved established series, and find great standalone titles from grande dames such as Mary Balogh and Mary Jo Putney to heavy-hitters Kristan Higgins, Jill Shalvis, Lori Wilde, and Maisey Yates to hot contemporary writers like Tawna Fenske, Sarah Morgan, and Abbie Roads.

This sampler has nearly every subgenre—historical romances set in different eras (Kristy Cambron's The Illusionist's Apprentice, Julia London's Wild Wicked Scot, Sharon Page's The Worthington Wife); contemporary comedy (Katherine Reay's A Portrait of Emily Price, a nod to Jane Austen's Emma); westerns (Lindsay McKenna's Wind River Wrangler); sports romances (Sarina Bowen's Rookie Move); thrillers and romantic suspense (Tiffany Snow's Follow Me, Colleen Coble's Twilight at Blueberry Barrens) and even some with a touch of paranormal.

Sarah Wendell, co-founder of Smart Bitches, Trashy Books and an expert in all things romance, offers an essential roundup of dozens of additional, noteworthy summer/fall/winter romance books to have on your radar. Wendell is the author of Everything I Know About Love, I Learned from Romance Novels and Beyond Heaving Bosoms: The Smart Bitches' Guide to Romance Novels. She will be attending Romance Writers of America and is available for interviews.

BUZZ BOOKS 2016: Romance is offered free. The consumer edition is available in the U.S. and Canada on all major ebook platforms, including Kindle/Amazon, iBooks/Apple, Nook/Barnes & Noble, Google Play, Kobo, and the universe of retailers served by Ingram. The trade editions—at PublishersMarketplace.com and NetGalley—feature extensive trade information for each title. In most cases, full digital galleys are available to the trade on request from NetGalley.

BUZZ BOOKS 2016: Romance
Publishers Lunch; July 7, 2016; Free
buzz.publishersmarketplace.com
Consumer Edition ISBN: 9780997396058

BUZZ BOOKS 2016: Romance

Free download now available for Amazon Kindle, Barnes & Noble Nook, Apple's iBooks,the Google Play Books, and Kobo.

About Publishers Lunch:
Publishers Lunch is the industry's "daily essential read," the largest book publishing publication in the world, now shared with more than 45,000 publishing people every day. Each report gathers together stories from all over the web and print that are of interest to the professional trade book community, with original reporting and analysis added in. The full version, Publishers Lunch Deluxe, is e-mailed every business day to members of PublishersMarketplace.com. It contains five to ten stories and links a day, or more, plus different standing weekly features. The individual Buzz Books titles — and a full in-print catalog of over 1 million books — can be found at the publisher's online book discovery store, Publishers Lunch Bookateria, which features dozens of curated lists of recommended titles. The "industry insider's" view taps into "buzz books" touted as new discoveries of note, and drawing on recommendations from a variety of booksellers and bellwether award nominations to connect avid readers everywhere to great reads. Follow Publishers Lunch on Facebook and Twitter.

Follow @PublishersLunch for the latest #BuzzBooksRomance updates on Twitter.

To access the Buzz Books consumer editions, please visit: http://buzz.publishersmarketplace.com
Robin Dellabough
Projects Director
Publishers Marketplace.