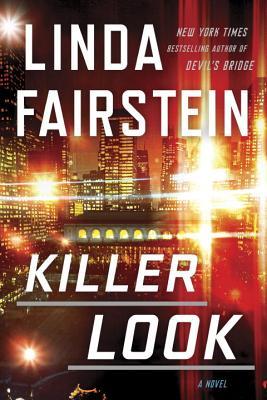 In Killer Look (Alexandra Cooper #18) by Linda Fairstein, after being kidnapped and held by a killer for a few days, Alex Cooper has been taking time off from her job as a sex crimes prosecutor to recuperate. Excessive drinking seems to be the only way she can cope with her post-traumatic stress, and with her no closer to returning to work, she may be putting her job with the district attorney's office at risk. That is until the murder of a fashion designer brings her back into the fold. Since working the case with her partners, Homicide detective Mike Chapman, and SVU detective Mercer Wallace may just be what she needs to help her move on from what happened to her.
"Gotta love me a trendy way to knock out the bad guys. Kill them with kindness."
"That's part of the reason Mike's so on top of this. Helium inhalation suicides have shown a striking increase in the last few years," Emma said. "It's a brilliant – almost foolproof – way to conceal a homicide."
When it comes to reading mystery novels, Ms. Fairstein is my go-to author for the genre and having read and re-read every single book of this series so far, I've learned quite a bit about New York, as this author gives readers an in-depth description of the city whether through the story's narration or a history lesson by one of the main characters dialogue (usually by Detective Mike Chapman, as he's a major history buff). However, in this book the investigation takes readers into the world of Fashion, which Alex knows a lot about. Right from the beginning, this story grabbed my undivided attention, because Alex is dealing with her PTSD by drinking and Mike is doing his best to make her see that it's not the answer. That getting back to work is the best thing for her, hoping that it would take her mind off the ordeal she suffered.
As for the dialogue, it was a nice mix of intense and playful, just like it is in the previous books. The intense due to the main characters back stories and the murder investigation. Who is the killer? What else will happen in the story to derail Alex or her partners from the investigation? What trouble will Alex get herself into because she won't do what her partners ask her to do when it comes to investigating on her own? Since she's not officially back on the job in her position as a sex crimes prosecutor who works alongside detectives on criminal cases (homicides, sex crimes etc.)
Then there's the playful dialogue between Alex and Mike that is always present in Ms. Fairstein's novels. Readers tend to either love or hate Mike, yet I've liked him from the very first book, Final Jeopardy. He can be crass and impatient at times, and it's palpable why he's a homicide detective. He has no patience for live victims (as he calls the people that Alex and Mercer help), because half the time he thinks they lie to his partner's faces. And of course, the dead can't lie, so it makes him believe homicides are easier to solve. Besides, the way he teases Alex certainly helps take away the gloom of a case that's particularly hard for her to deal with, of which many they've worked have been pretty tough.
I walked to Mike, wrapping my arms around his neck. "You're doing everything for me that I need. You know that."
"Really? And all this time I thought it was the alcohol getting you through the night," he said. "I'm beginning to believe your view of things is that PTSD stands for Pour That Sweet Dewars."
I let go of him and retreated to the bar. "A smack in the face instead of a kiss on my lips. Got that one loud and clear."
"Then do something about it, Coop. Put the brakes on your extended cocktail hour."
All three main characters are amazing, and their back stories couldn't be more different. Opposites attract certainly rings true for Alex and Mike. He's Irish, blue-collar, and he has altruistic reasons for becoming a cop like his father. While Alex, she's a trust-fund kid, living comfortably, which gives her the opportunity to work in a job that she loves where the hours are long and the pay is lousy. Not that she cares because she's kind-hearted, strong, courageous and throughout this book she begins to find the tenaciousness she normally has for solving crimes. The same tenaciousness she had before her kidnapping.
Alex is really struggling to get back to normal after her ordeal in the last book, but the more involved she gets with the case – even if she isn't assigned to it officially – the more she begins to be the strong woman she is throughout the series. Also, it doesn't help that she's fighting to keep her job and her boss has given a 'no talking to Alex' policy to her colleagues, colleagues she's really close with. But what I liked most about Alex is that she couldn't stay away from the investigation and decided to work some angles to solving the case alone, because working the case was the only way she could keep herself from completely falling apart.
"So maybe I got some information today that will move you forward."
"Let's hear about your little escapade," Mike said. "It's always interesting when the patients get out of their straitjackets for a few hours."
"Yeah, quite refreshing for me, actually. Off my meds. No keeper," I said. "I just got lucky, is all it is. I didn't have any reason to know what I was going to walk into."
While Mike is competitive, which is proven in the times he insists they watch the game show Jeopardy and bet each other on who can get the answer to the final question. Seriously, I always look forward to which of them win because they each have their strengths. Alex is good with literature, history is Mike's specialty and Mercer is good at answering questions on transport and animals. Mike is also very good at his job. He's persistent and isn't afraid to push the people he needs to interview to solve a case. Sometimes, he goes a little too far, but always his partners call him on it.
Overall, this was a wonderful book, which can be read as a stand-alone, and where the romance between Mike and Alex just keeps getting stronger. They're so right for each other, even when their superiors aren't exactly supportive of their relationship, because it might compromise previous cases solved and future cases. The way this story ended came as a huge shock for me, and will no doubt have fans of Ms. Fairstein's books eagerly awaiting the next in the series. Since it certainly sets up what will be a very interesting murder investigation. I would recommend reading this entire series, if you enjoy strong heroines that tend to attract trouble; sarcastic (Mike) or gentle giant heroes (Mercer), or are looking to read your first book in the mystery/thriller genre.
Book Info:

July 26th, 2016 | Penguin Dutton | Alexandra Cooper #18
New York City is one of the fashion capitals of the world, well-known for its glamour and style. Nowhere is this more apparent than on the runway, where American haute couture continually astounds with its creativity, daring, and innovation in the name of beauty. Yet high fashion means high stakes, as Alex Cooper quickly discovers when businessman and designer Wolf Savage is found dead in an apparent suicide, mere days before the biggest show of his career. When the man's daughter insists Savage's death was murder, the case becomes more than a media sensation: It is a race to find a killer in a world created entirely out of fantasy and illusion.
With her own job at the DA's office in jeopardy, and the temptation to self-medicate her PTSD with alcohol almost too strong to resist, Alex is not anyone's first choice for help. But she is determined to uncover the grime—and the possible homicide—beneath the glitz. Along with detectives Mike Chapman and Mercer Wallace, Alex must penetrate the twisted roots and mixed motives among the high-profile players in the Garment District. The investigation takes the trio from the missing money in Wolf Savage's international fashion house to his own recovery from addiction; from the role of Louisiana Voodoo in his life to his excessive womanizing; and to the family secrets he kept so well-hidden, even from those closest to him—just as things are about to get deadly on the catwalk.