ionR: 
How Far is too far?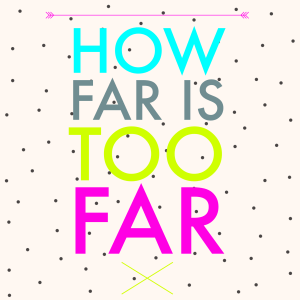 How Far Should an Author take a Series?

A romantic-series is as popular today as such novels were in the early 90's if not more. From small towns, to second chance romances and even to military romances, series give us more than hero and heroine. I personally enjoy a series because of the wide variety of characters that are introduced. I rather enjoy reading how an author is able to change from one character to someone else entirely by the second or even third book. However just how far should an author be willing to take a series?

That's a great question and one that has been lingering in the depths of my mind.

Like most of you, I have read books where a series is only three books. Then, I have read books that actually feature a series of a twenty novels or more. To be honest I am not a large fan of romance novels that go the distance as in twenty novels.
One of the largest reasons for my distaste is that both the romance and the plot tends to repeat from the first, few releases. I basically feel like I am reading the same book over and over again with different characters.
Secondly, by the time I reach around book eleven I am more than ready for the author to deliver some new material. Of course I think my biggest flaw with a larger series has to be the fact that realism has flown out the window. As we discuss last week I am huge believer in HEA-ending but a small town having twenty happy endings in a single row is not all that realistic to me.
If I had to pick a number of novels that I think is the right ending for an author I would select six. I'm comfortable with reading that many romances and HEA-endings in a series. Normally, the author stays true to the plot of the novels and the romance stay heated. So six is the right number for me give or take a few novels.
Still, so many authors are talented are able to maintain their readers interest in a drawn out series.

Basically I think it comes down to the reader and that is where you guys come in.
How far do you think an author should be willing to write a series? Is there a certain number of novels that works for you before you loose interest in a series? Please tell us as we would love to know! 🙂
Leone