Trope it Up: 
Single Parent Romances
If you love reading romance novels as much as we do here at HJ, you definitely have a trope or two that you love to read about.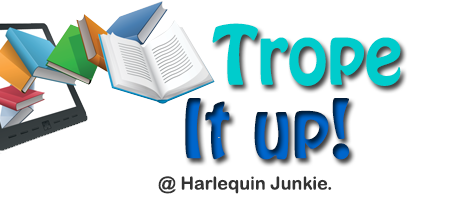 Today we are Troping up on

Single Parent Romances

I recently had a conversation with a friend about her love of romances involving divorced or widowed characters with children and I thought this would make a great discussion topic for Trope It Up!

They are a type of second chance romance, but not the kind where the characters knew each other when they were younger and reconnect, or marriage in trouble stories. (We've had a trope it up post on that theme already, called Second Chance Romances or Reunion Stories which you can find in the blog archives).

I'm strictly speaking about single parent men or women who meet that special someone willing to take on the extra responsibility of being a step-parent. I think someone who is willing to step up to the plate and be a parent figure for their partner's child is definitely hero or heroine material.

So here are my top stories in this category ( all from the contemporary romance genre)- and I'm limiting it to parents with children who are teenagers or younger, with a mix of single father and single mother main characters.
Recommendations:

Bringing Home the Bad Boy by Jessica Lemmon – Since his wife died 5 years before, Evan is still lost in his grief, though he knows that his son needs him to end their seclusion and move on with their lives. His wife's best friend Charlotte shares their grief, and together they find a way to move on, though they both must deal with the guilt of their new-found feelings for each other.

Can't Get Enough by Molly McLain – Tony has a beautiful infant daughter that his ex is not able to care for, resulting in him having custody of her. He meets his visiting neighbour Nicole and a love affair ensues even though she doesn't plan to stay in town. But she can't resist Tony for long and she's got to decide whether uprooting her life for him and his daughter will be worth the risk.

Love on a Spring Morning by Zoe York – Ryan is devastated when his wife dies unexpectedly and he's left taking care of their young children. The last thing he needs is a Hollywood superstar coming to town and making him take an interest in having another relationship when he's still recovering. But Holly's patience and kindness soon make him realize that moving forward might be okay after all.

What to do with a Bad Boy by Marie Harte – Mike already has his hands full with his family and his son and still grieves the loss of his wife. But Delilah comes into his life and challenges him to think about what he really wants for his future.

Unwrapping Her Perfect Match by Kat Latham – John is a sexy rugby player with a mostly estranged 10 year old daughter who lives with her mother. He meets Gwen at a party and they hit it off immediately. When he enlists Gwen's aid to help care for his daughter during her Christmas visit, it's the beginning of a wonderful and heartwarming relationship.

Carolina Home by Virginia Kantra – Mike's been raising his teenage son alone ever since his wife left him when Josh was an infant. When Josh's teacher Allison comes to speak to Mike about some concerns she has over Josh's grades, it's the start of a sexy fling that turns into a committed relationship.

Worth the Fall by Claudia Connor – One of my favourite reads of 2014, this is a beautiful love story about a widowed woman with four (yes 4!) children and pregnant with a 5th. Now any man that's going to take on that responsibility is definitely a hero in my eyes, and it was wonderful to see Matt go the distance for this woman he meets on a beach with whom he falls madly in love.

A Woman's Worth by Audra North – Chantal's ex-husband is a real jerk, leaving her without financial support for their two sons, and she's getting used to being a single parent. A sexy fling with her boss Ronan is just the ticket to get her back on the road to regaining her self confidence.

Coming Undone by Lauren Dane -Elise has escaped a bad marriage and taken her young daughter with her, ready to start living her life in a new home town. Meeting handsome and single Brody gives her the chance to discover what a loving relationship really looks like.

Marine for Hire by Tawna Fenske – Sheridan has 7 month old twins and when her brothers hire Sam to be her nanny they neglect to mention that he's one of their brothers' in arms (and she's sworn off military men for good!). Lots of laugh out loud moments in this one!

Jordan by Lori Foster -Part of the successful Buckhorn series, Jordan is a single veterinarian who meets an exotic dancer, Georgia, doing her best to provide for her two young children. He brings them into the Hudson family and shows them that Buckhorn is a town worth living in.

The Perfect Play by Jaci Burton – Sexy football player Mick meets his match with single mom and event planner Tara. Tara's got a solid head on her shoulders and she's determined not to be swayed by Mick's fame and fortune, so it will take some extra effort on Mick's part to convince Tara that his playboy days are over.

Can't Hurry Love by Molly O'Keefe – Widow Victoria is ranch bound with her son, taking over her birthright and trying to ignore sexy ranchhand Eli, to no avail -especially since Eli thinks the ranch should be his. An opposites attract romance and my favourite of the Crooked Creek Ranch series.

Along Came Trouble by Ruthie Knox – Ellen is an accomplished lawyer and a happy single parent to her son, so Caleb, the bodyguard her famous brother hires, is not particularly welcome even though she knows it's for her own safety. Caleb gets under her skin – and into her bed- in this delightful and sexy romance.

Can't Help Falling in Love by Bella Andre – The Sullivans series is a favourite of mine, and none more so than Gabe's story, where he rescues Megan and her seven year old daughter from a fire. The conflict of whether her feelings for him are genuine or as a result of his heroic deed is what drives the story.


I'd love to know if you've read any of these stories! Feel free to add your own recommendations in the comments.
Maria Rose