ionR: 
Passionate About Romance: That First Spark

Passionate About Romance: That First Spark
There are many pleasurable reasons as to why we as readers love a good, sensual romance novel. I can think of a few that stand out from desirable heroes, to the strong-willed heroines and of course we cannot forget those happily-ever-after endings.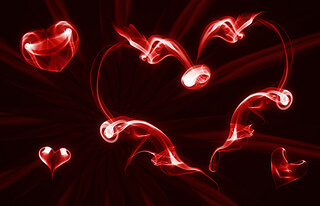 Still, we all have something that first drew us to the romance genre. That instant spark that teased our nerve endings and made us want to experience love.

I have to credit my first viewing of Disney's Cinderella at the tender age of six as an introduction into the fairy tale romance that most of us have come to enjoy. A fairy tale that doesn't have to be strictly knights or dukes, but instead can be military heroes, immortals or even cowboys. We each have our own fairy tale "prince charming" in disguise that we want to read about time and time again.

For my Grandma she first fell in love with her military hero at the fragile age of sixteen. Together, she and Deane (a man that wasn't my grandfather,) had a love that even when he died unexpectedly early into their marriage remained timeless.

I'll never forget the passionate, undying devotion that her eyes glimmered with each time that she told stories about her true love. It's that kind of love that made me fall head-over-heels for the romance genre because there is something special hidden within the words of the books. There is the presences of hope, struggle, remorse, forgiveness and sometimes loss and yet love always survives. It endures everything and anything and I think that is what I love the most about romance.

Yes, there is so much to both love and to admire about romance. However I'm not sure that I could even narrow down as to one, solid reason as to why I love the romance of the modern world. Naturally, the author being gifted to tell such a grand story worth memorizing is reason enough. Yet I think perhaps the best part about romance is the bold fact that we as readers have come to enjoy such stories to the point that there are some romances that we will cherish for a lifetime.
So please tell me what first sparked your love of romance? Was it a hero, a spouse, a book, an event or something else? I would love to know! 🙂
Leone @bookishromantic (HJ's Bloggerista)