ionR: 
Soft & Hard Limits

What are your Soft & Hard Limits? 

Soft & Hard limits… Wow, that sounds kind of kinky doesn't it?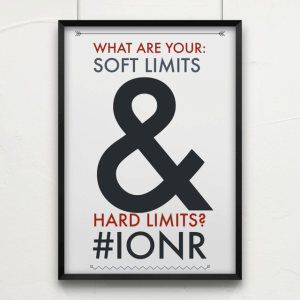 Righty ho anyways, I'm here to discuss some things I can semi deal with in the books I read, and the things I refuse to read about in a romance novel.

Hard Limits:

Cheating.
I can not stand cheating in a story. I actually have a few books in mind, but I won't name them, that I couldn't stand because of the cheating in the book. I would have liked the story if that wasn't in it.
Now, some people are wondering define "cheating" ?
So, my idea of cheating is when the hero or heroine is actually in the relationship for sure dating or together and the other either kisses, messes around or sleeps with someone else. That is cheating to me.
Sometimes, the hero and heroine could have broken up and one of them messed around with someone else, that I don't actually like, but I could deal with depending on how it is handled in the story.
The main reason I don't want to deal with cheating is because when I read a story I literally "feel" everything the heroine feels, or at times the hero feels. This happens in pretty much all the good books I read, and I love that. But the downside to that is I don't want to feel what they are feeling when their partner cheated on them. That is one of the worst feelings ever, and I do not enjoy it. That's why I hate cheating.

Rape Fantasy… I actually didn't know this existed until a friend of mine told me about it. And that's just awful to me. One of my biggest fears in life is actually to be raped, and I dang sure don't want to read about the heroine wanting to be raped because it gets her off… Just no. *Shudders*

Soft Limits:

BDSM:
I can deal with some BDSM to a certain extent. It just depends on how the hero and heroine handle the situation. I can not, however, deal with it if it goes to the extreme. Like bleeding for instance. That just makes me cringe and not want to read the book.

Those are actually the only hard & soft limits I have.

I think it's a good thing to have limits sometimes to what your willing to read. I try to be open minded for the most part, but sometimes that's just not going to happen if it has one of my limits in it.
What are your soft & hard limits? Do you think it's a good idea to have limits?
Whitney (@ShootingStarsRe)