HARLEQUIN LAUNCHES NEW WINE BRAND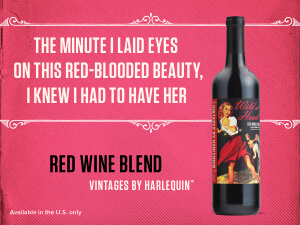 NEW YORK, September 24, 2015 – Harlequin, one of the world's leading publishers of books for women, today announced the launch of Vintages by HarlequinTM, a new line of three wine varietals, with vintage Harlequin branding.

Vintages by Harlequin wines were developed in close collaboration with Vintage Wine Estates, a small group of vintner families who share a love of wines from the North Coast of California and who have assembled a collection of fine wineries and wine brands from the region. Their award-winning wines are sold in fine restaurants and retailers worldwide.

"We are very excited about this business development and partnership. Harlequin has a deep history of creating experiences for women, and we are thrilled to bring this new opportunity to market," said Craig Swinwood, Publisher and CEO of Harlequin. "As a company, we strategically seek out partnerships with top quality brands that fit our vision for success. Vintage Wine Estates produces superior products and we're proud to affix our brand to these carefully selected wines."

"It's been great working with Harlequin on this exciting new venture, and we couldn't be happier to be producing the first range of wines bearing the Harlequin brand," said Terry Wheatley, Executive Vice President, Sales and Marketing for Vintage Wine Estates. "It's a special experience to sit down with a good book and glass of wine. We look forward to offering Harlequin readers that moment of everyday indulgence."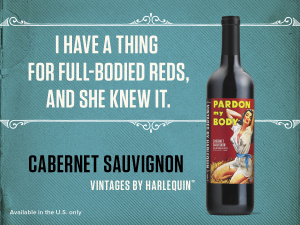 Vintages by Harlequin features three varietals: a bright and delicate chardonnay, a full-bodied cabernet sauvignon and a juicy and complex red wine blend. Available exclusively on Amazon.com now, the wines have a retail price of $14.95 and are available to US customers only.

Nancy Walker, a winemaker at Vintage Wine Estates, is a master blender who has won Best of Class accolades and gold medals internationally, including 22 golds for Middle Sister Wines. Nancy passionately crafts Vintages by Harlequin wines to showcase their varietals' individual styles as well as the nuances of the regions they are harvested from.


About Harlequin
Harlequin (Harlequin.com) is one of the world's leading publishers of books for women, with titles issued worldwide in 34 languages and sold in 102 international markets. The company publishes more than 110 titles monthly and more than 1,300 authors from around the world. Harlequin is a division of HarperCollins Publishers, itself a subsidiary of News Corp and one of the largest English-language publishers in the world. Harlequin has offices in 14 countries, including offices in Toronto, New York and London. For more information, please visit Harlequin.com and Facebook.com/HarlequinBooks. Follow Harlequin on Twitter: @HarlequinBooks.


About Vintage Wine Estates
Vintage Wine Estates is a privately held wine company owned by a group of vintner families with deep roots in the wine business. The families own a collection of winery estates and brands, which include Clos Pegase Winery, Cosentino Winery, Girard Winery, B.R. Cohn Winery, Swanson Vineyards, Viansa Winery, Windsor Vineyards, Cartlidge & Browne, Sonoma Coast Vineyards, Ray's Station, Middle Sister, Wine Sisterhood, PromisQous, Monogamy, Girl & Dragon and Purple Cowboy. Vintage Wine Estates is also the exclusive vintner for a number of wine brands, including Vintages by Harlequin. An industry leader across all sales channels and dedicated to providing wine consumers with a range of wines from $10 to $100 dollars and at many price points in between, Vintage Wine Estates produces outstanding wines from Napa, Sonoma, Mendocino and other premium California winegrowing regions. Learn more at VintageWineEstates.com.


Media Contact:
Michelle Renaud
Director, Romance Publicity & Events (416) 448-7164
michelle.renaud@harpercollins.com