In Pretend It's Love by Stefanie London, Paul needs a date to his brother's upcoming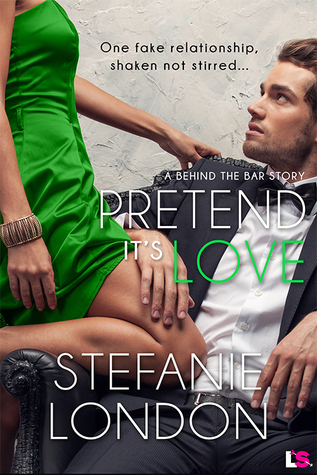 wedding in order to keep his nagging family off his back about not having a girlfriend. He also doesn't want to attend the wedding alone because his ex-girlfriend, who cheated on him with his cousin, will be there. He literally has a run in with the answer to his problems–Libby.
Libby, trying to break out of her father's shadows and make her own way in life, is starting a flavored vodka business. When a celebrity announces she's doing the same, all her sponsors dump her in hopes of getting in with the celebrity. Libby needs a bar to feature her vodka, otherwise her dream will go up in smoke before it even has the chance to take off.
The relationship of convenience trope can be hit or miss, but this one was well-written. While somewhat predictable, the characters made up for it. Libby and Paul were playful and funny. I liked how even though Paul was going to help Libby convince his brother Des to let her sell her vodka in his bar, Paul doesn't really help her. Yes he introduces them, but he lets her seal the deal by herself because he has confidence in her. When Libby's father doesn't treat her right, Paul has no problem stepping in to stand up for her. For the first time in her life, Libby feels like someone believes in her and finds her worth standing up for.
Paul wants to do more then be a bartender; he wants to be a mixology teacher and hold the classes at his brother's bar. While he helps Libby achieve her dreams, she helps him as well by working with him to develop a business plan to present to Des. And when Libby overheard members of Paul's extended family saying unpleasant things about him, she stepped right in to defend him. They not only became friends, but were also each other's biggest supporters.
This is the second book in the series, but it can be read alone. The first book is about Des, and after reading this book I would like to go back and read that one as well since he and Gracie seem like interesting characters.
If you enjoy stories where people get together to help each other out, only to end up becoming more, I recommend giving Pretend It's Love a read.
Book Info:

Publication: September 28, 2015 | Entangled: Lovestruck | Behind the Bar #2
Bar manager Paul Chapman is sick of his family's traditional ideals. Marriage, babies, and a white picket fence? Not his gig. But now that his 'golden child' big brother is tying the knot, Paul's screwed. His ex will be there…and she's having his cousin's baby. Unless he wants to show up to the wedding alone and face his family's scrutiny, he needs a girl on his arm. Now.
Cocktail specialist Libby Harris has spent her life earning the nickname Little Miss Perfect, all to win the love of her wealthy, controlling father. But she deviated from his plan, and now her business is on shaky ground. If it fails, she might as well kiss his respect—and her dream—good-bye. Her only hope? Convince the hottest bar in town to take on her product.
Luckily for her, the owner's brother is sexy as sin and in need of a perfect girlfriend…