Real Men Don't Break Hearts by Coleen Kwan is a sweet and cozy romance that you'llwant to curl up with to keep you warm!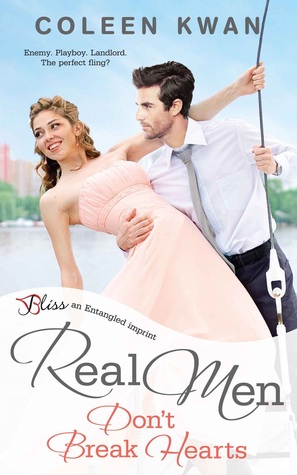 Ally Griffin has sworn off men every since she was left at the altar by her ex fiance.  She has a happy life running her own business when everything is turned upside down by Nate Hardy buying the building that she is renting for her business.  Nate is the cousin of the ex that left her at the altar, and she blames him for ruining her wedding day.  To make matters worse her ex is back in town and he is getting married for real this time.  Ally is determined to keep her attraction to Nate to herself, but as she spends more time with Nate she is finding it harder to keep her feelings to herself.
Nate Hardy is surprised to find that his new tenet is Ally.  He did talk his cousin out of marrying her six years ago because he felt that they were to young to wed.  Nate isn't prepared to have such a strong attraction to Ally. In order to find their happily ever after they will both have to learn to trust one another and let go of the past so that they may have a bright future together.
Real Men Don't Break Hearts is book number one in the Real Men series.  It starts the series off on a high note.  The story is a face paced , realistic journey to love. The characters feel like old friends that I cheered on as their love for one another developed. This was my first book by Coleen Kwan, but I will be highly anticipating the next book in the series.  Ms Kwan has penned a winner with Real Men Don't Break Hearts!
Rating:
Book Info: Publisher: Entangled Publishing (Bliss) (December 6, 2012)
Ally Griffin is horrified to learn her new landlord is none other than the infuriating playboy Nate Hardy—the man she blames for getting her jilted at the altar six years ago. Plus, now her ex-fiancé is back in their hometown of Burronga, Australia, to marry his beautiful new bride…for real this time. Everybody's treating Ally with kid gloves, as though she's still heartbroken, but she's just fine, thank you very much.
Nate Hardy is tired of his high-flying city career and bachelor lifestyle and is looking for something more real. The last thing he needs is to find himself undeniably attracted to Ally, the woman with whom he never saw eye-to-eye. But is he even capable of what Ally wants and deserves?
As Ally tries to pull her life out of the rut it's fallen in, she doesn't count on Nate stirring up her emotions. A short-term fling with the resident bad boy is practically irresistible, but only if she can guard her heart…