Seducing the Secret Heiress by Jennifer St George

  is a very quick but very enjoyable story.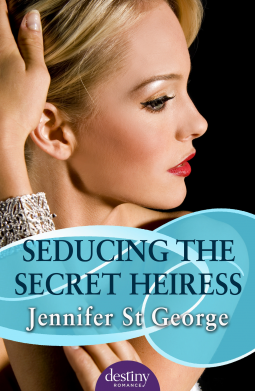 It starts off with a bang as Charlotte (aka Charlie) meets Gabe under extreme circumstances on a beach in Italy. Their lives become more tangled as the story progresses and their relationship struggles to find a balance between business and pleasure.
This is a classic plot with conflict, resolution, conflict again, some undeniable romantic tension thrown in for good measure and a wonderful HEA to finish. I love that Charlie is a strong, intelligent woman and wants to find her own way in the world; and that Gabe doesn't want to change that at all. He likes her creative spark and passion for life.
The author did a great job building tension between the characters in a believable way and readers will applaud their stolen moments together.
I would certainly recommend this story to any contemporary romance enthusiast out there.
Rating:
Book Info: Published January 10th 2013 by Penguin Group
Diamond heiress, Charlotte Wentworth, is passionate about two things – cooking and her billionaire fiancée, Paul.  That is, until she finds Paul has been unfaithful. Shocked, she flees to Europe where she is determined to build a life of her own without her family's name, fortune or connections.  When she meets gorgeous Englishman, Gabe Grenville, a famous reality TV producer, sparks fly. Charlotte passes herself off as a lowly catering assistant but soon finds herself a star on his TV cooking show. But how will he react when he discovers Charlotte's true identity? And Paul has not given up – he has his own agenda for forcing Charlotte to return to Australia and marry him.
Will their love turn into a recipe for disaster? Or will it turn out to be a perfect concoction?