In A Bad Day for Sunshine (Sunshine Vicram #1) by Darynda Jones, Police officer Sunshine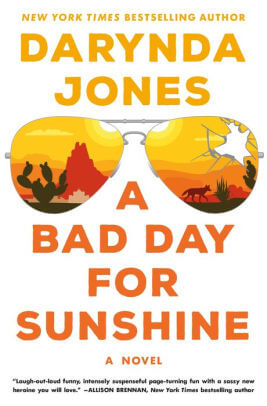 Vicram knew she would probably end up moving back to her hometown of Del Sol, New Mexico some day. But she never thought it would be as the new sheriff–a role she won thanks to her parents throwing her name in the race without her knowledge. Sunny brings in tow with her Auri, her fourteen-going-on-thirty-year-old daughter who will have to find her place on the local high school social ladder. Not an easy feat. Particularly when your mom is the town's sheriff. But it becomes even more difficult when Sun's first day on the job involves the abduction of a local girl, and Auri finds herself targeted by the school's mean girls club.
'She thought back, trying to figure out how many panic attacks she'd had before moving back to Del Sol.
Oh yeah. None.'
Chasing down leads to find a kidnapper and a girl who must be scared out of her mind, Sunny encounters one snafu after another. There are the neighbors who have been arguing over everything for what seems like decades, now about a prize rooster who may or may not have been stolen. A yummy smelling batch of muffins that show up at the headquarters which according to local legend supposedly hints at impending doom. And too many things about Sybil's disappearance that brings up bad memories for Sun. Toss in the fact that Auri learns some devastating secrets about her family, and she also begins to fall for a student who comes to her rescue more than once, and you've got one heck of a first week for Auri and Sunny in their new home.
'Sun was struck with just how wonderful her daughter was. A daily occurrence, yes, but one she cherished.'
Leave it to Darynda Jones to start off her new series in such an exciting way. A Bad Day for Sunshine had a complex storyline filled with snarky goodness, an awesome cast, and both heavy and lighthearted scenes in equal measure.
"We're in the crazy capital of the world. I've been trying to tell you since we were kids. Things happen here that don't happen in other towns. Strange things. Unexplainable things."
I'm over the moon to have a whole new series by Darynda Jones to sink my literary teeth into. And while Sunshine Vicram and the other cast members had some echoes of Charley Davidson & crew (Charley + Reyes forever!), this was wholly its own. It was not urban fantasy or paranormal. It was basically mystery with a smattering of romance thrown in. And oh what a complicated, twisting and turning tale Jones spun. The silly small town antics were delightful and added to the mayhem poor Sunshine had to immediately deal with on her first day as sheriff of her hometown. It was the eerie similarities between the disappearance of a local girl and Sunny's own past that made this a thrilling first installment.
You know the drill about Jones's writing–I can't say too much without giving away major plot points. What I will admit to is having a girl crush on Sunshine. (lol) She was so much fun. She didn't mind telling it like it was but she still showed compassion, even while doing the parts of her job that were less than enviable. Sunny was also a terrific mom. The relationship she had with super smart fourteen-year-old Auri was impressive and simply lovely to watch. They were surrounded by a great bunch of people, like Sunshine's BFF Quincy, her parents, and other locals who had been part of their lives for some time–all who helped and only occasionally hindered–her investigation.
Quirky, with plot twists galore and mysterious goings on, A Bad Day for Sunshine was a mile-a-minute treat I couldn't get enough of. And I think readers will love how nicely Darynda Jones set up the next book in the series, which promises to drop even more bombshell secrets into Sunshine's life. Can't wait!
Book Info:

Publication: April 7th 2020 | St. Martin's Press | Sunshine Vicram #1
Sheriff Sunshine Vicram finds her cup o' joe more than half full when the small village of Del Sol, New Mexico, becomes the center of national attention for a kidnapper on the loose.
Del Sol, New Mexico is known for three things: its fry-an-egg-on-the-cement summers, its strong cups of coffee—and a nationwide manhunt? Del Sol native Sunshine Vicram has returned to town as the elected sheriff–an election her adorably meddlesome parents entered her in–and she expects her biggest crime wave to involve an elderly flasher named Doug. But a teenage girl is missing, a kidnapper is on the loose, and all of it's reminding Sunny why she left Del Sol in the first place. Add to that trouble at her daughter's new school and a kidnapped prized rooster named Puff Daddy, and Sunshine has her hands full.
Enter sexy almost-old-flame Levi Ravinder and a hunky US Marshall, both elevens on a scale of one to blazing inferno, and the normally savvy sheriff is quickly in over her head. Now it's up to Sunshine to juggle a few good hunky men, a not-so-nice kidnapping miscreant, and Doug the ever-pesky flasher. And they said coming home would be drama-free.