The Greek's Unknown Bride by Abby Green finds Sasha waking up in a hospital after a car accident,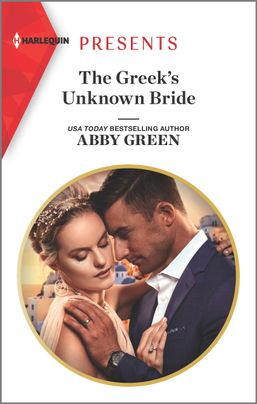 without memory of who she was or of her marriage to her husband, Apollo. She quickly gages that neither Apollo nor his household staff want her around, but he doesn't have the heart to throw her out until she gains her memory back.
Apollo notices something is different about Sasha post-accident, and he discovers he likes the new Sasha. He doesn't know, however, if the changes will stick once she gets her memory back. He also has no desire to have a family, due to the tragedies that happened to his own. But when Sasha gets her memory back and they discover things aren't what they seem, will she be able to convince Apollo to give her a chance?
It took me a bit to warm up to Apollo. He initially comes across as cold to Sasha, especially the first few days after she woke up in the hospital. When it's revealed why he's so mad at her, however, it was understandable why he was so upset.
Sasha remembers the one night she originally spent with Apollo. She definitely doesn't remember marrying him, or what he accuses her of. I felt for her because she was confused, and when the truth of who she is comes out, she realizes the true tragedy of what occurred.
The book was well-written and the plot was interesting. It grabbed my attention from the first page and held it until the last. I recommend giving it a read, especially if you enjoy stories involving a character with amnesia.
Book Info:

Publication: April 1, 2020 | Harlequin Presents |
Sasha's life changes beyond recognition after a shocking accident—her amnesia has made sure of that. She can't even remember marrying Apollo, her devastatingly handsome Greek husband! Although she does remember their intimate, searing passion…
Then Sasha discovers the truth behind their less-than-perfect marriage and is left with more questions than ever. Why can she remember only one night with Apollo? Why does their undeniable connection trouble him so? And is their tempestuous marriage strong enough to withstand revelations from her past…?