A Beauty Uncovered by Andrea Laurence (Secrets of Eden #2): Samantha Davis has landed the best temporary job of her life. After being burned by an office romance and losing her previous job, it's taken her a while to get another. Luckily, her godmother managed to get her a well paying job working as personal assistant to software CEO Brody Eden for the next month. Once the papers are signed and she begins training, however, Sam sees this job isn't going to be like any other job. The bright side is, since she won't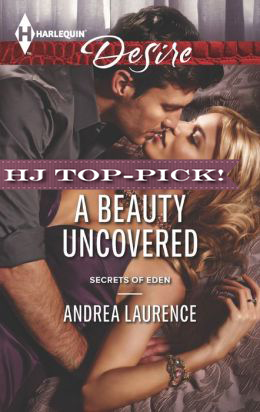 see much of her reclusive boss, there's no way she can fall for him. But why is he so determined to hide away from the world? He's gorgeous, successful, and rich; why is he hiding away? Her family doesn't refer to her as "the fixer" for nothing. Sam is determined to push Brody out of his comfort zone and into the world.
Brody Eden has his reasons for being reclusive. His rough early childhood and mistakes in love taught him to always be on his guard and skeptical. His successful software company has provided him both the wealth and technology to keep people at arm's length, just the way he likes it. But Sam refuses to play be his rules from the beginning. It doesn't take long for her to push him out of his comfort zone, and Brody is tempted to let her get even closer. There's not denying the attraction between them.
'Was the water too deep?' Brody asked, coming up behind her. Sam turned to him and smiled. She didn't want him to know she was having thoughts about her feelings for him. 'Not usually. But it's so amazing and romantic out here, and I want to kiss you so badly. I'm afraid I'll get distracted touching you and drown.' Brody chuckled, wrapping his arms around her and pulling her against him. She moved easily through the water, colliding with his chest. 'I'll keep your head above water, don't worry.'
But as close as Brody lets Sam, he still has secrets to keep that affect more than himself. While Samantha cares for Brody, she is hesitant to love again after her last relationship with the boss ended so spectacularly. Can they overcome their pasts to grab hold to a future together.
I. Loved. A Beauty Uncovered! I've only read one other book by Andrea Laurence, but A Beauty Uncovered is enough to put her on my must read list. Even though I haven't read the first book in the Secrets of Eden series, I was able to follow the connecting storyline easily. Both Brody and Samantha are characters that you fall in love with and care about from the first words about them. You understand their insecurities, and that knowledge makes the challenges of their relationship, and their reactions to those challenges, believable. Brody is groundbreaking in my experience of romance novel heroes (in ways I can't tell you because it will ruin the surprise), and even though he can be rude, it doesn't make you dislike him. Samantha, with her love of glitter and sunny personality, managed to be both sexy and experienced while being warm and vulnerable–a rare combination in a heroine. The plot has enough action to keep the reader engaged in the story, and the material that links this book to the others in the series fit easily into this story instead of being shoe horned in.
I loved A Beauty Uncovered by Andrea Laurence because this book has characters I care about facing the challenges in their relationship in ways that are true to their characters. I love the pacing and plot. I like the underlying story of the Eden siblings that ties the narrative to other books in the series. I would recommend this book to anyone who loves a brooding, prickly but sensitive hero, a warm hearted heroine determined to fix said hero, and juicy secrets that you can sink your teeth into.
Book Info:

 HJ Top Pick
Published October 1st 2013 by Harlequin Desire (Book 2259) |Secrets of Eden #2
A beastly boss is tamed in this Secrets of Eden book from Andrea Laurence….
CEO Brody Eden is a loner. The brooding billionaire has secrets that he refuses to unveil to anyone …until he meets his new assistant, Samantha Davis. She's temptation personified, and she's sitting right outside his door.
Samantha's never met a man as guarded and gorgeous as Brody. She doesn't want to fall for her boss, but there's something about Brody…. Beneath his gruff manner, Sam senses tenderness and an intense passion waiting to be unleashed. And she'll make it her mission to enter his lair …and his bed.