In Not Quite Enough (Not Quite #3) by Catherine Bybee, Monica Mann has been through extensive training for the Borderless Nurses group but hasn't gone on any missions. Until now. She's sent to Jamaica after a strong earthquake and tsunami hit the island. Monica is thrown into utter chaos as there is not enough hands to help or even enough food or medicine to take care of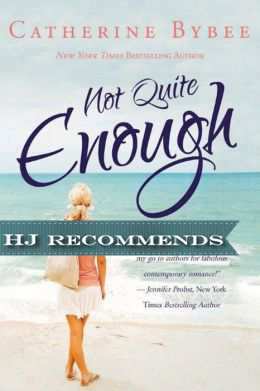 everyone. She has to deal with everything from local staff giving her attitude to a lack of doctors present to make decisions. She chalks it all up to being the norm in the life of a trauma nurse.
"Trying to scare me off?"
"Yeah. No. I think I should warn you. Monica Mann should come with a warning label. Caution, Ice Queen on board. I cut guys out when they get too close."
She meets pilot Trent Fairchild the day she arrives on the island. He flies helicopters locally and is helping out by moving the medical staff and supplies to the hardest hit locations. They have an easy camaraderie, which comes in handy as they are thrown together on several occasions. Monica realizes Trent feels the chemistry between them and wonders if she should take advantage of her minimal time away from the clinic to indulge in an island fling. Trent comes across as a casual person, not looking for a long-term commitment which is just fine by Monica.
'His skin heated just thinking of her. It's chemistry. Nothing more, he told himself.'
Only a couple of days into Monica's time in Jamaica, she and Trent find themselves in a horrific situation. Trent's past comes back to haunt him as the stress mounts and Monica struggles with letting go of her controlling tendencies. They both pray they can get out alive so they can see their families again. And maybe even so they can see if they have what it takes to build a strong relationship together.
'One step and he had her up against the wall and his lips on hers. It's just a morning kiss. A good-morning-where-have-you-been-all-my-life kiss.'
Not Quite Enough is a page-turner of a Contemporary Romance filled with compassion, love and life-threatening situations. I have read several of Catherine Bybee's books, and have enjoyed them all immensely. Her characters may be in situations some of us would never be in like the Borderless Nurses, or married to a millionaire. But they are all intriguing, flawed and completely relatable.
Book three in the Not Quite series didn't disappoint me in the least. The writing was spot on as usual, with the pace of the story moving along perfectly and the prose being descriptive but not too wordy. I connected with Monica quickly. You can tell she believes passionately in what she does as a nurse. And rightly so!! We don't give nearly enough credit to nurses for all they do on a daily basis to make our lives better.
Monica's nickname her co-workers gave her is Ice Queen, or Queenie. I thought that was an honest thing to include, seeing as her job is to stay detached enough from her patients to make the tough calls and ensure they get the proper care needed. But Trent sees through the icy facade and knows she isn't quite as strong as she lets on. He tries to break through those walls and help Monica feel a connection. Given his past, Trent also has some insecurities which come into play and is another hurdle for them to overcome.
If you like Contemporary Romance with heart-wrenching drama, strong characters full of love and passion, and a HEA, give Not Quite Enough a try.
Book Info:

HJ Recommends
Publication: October 8th 2013 by Montlake Romance | Not Quite #3
Monica Mann has made it her life's work to save lives. After an earthquake and tsunami hit the shores of Jamaica, she volunteers her trauma skills with Borderless Nurses. Calculating and methodical, Monica creates order out of whatever chaos she finds.
Until she finds the perpetually barefoot, impossibly masculine Trent Fairchild. No one can pin him down. No, really. He's a pilot and manages a small fleet of choppers on his adopted island home. Hopelessly drawn to one another, they manage to slip away from the wreckage to get a little closer. And they get a lot closer than expected when aftershocks from the earthquake trap them in a life-or-death scenario. Paradise has brought them together. Now will it tear them apart?