In A Callahan Christmas Miracle by Tina Leonard, Rose Carstairs has been secretly interested in Galen Callahan since the first time she met him. But he never seemed interested in her or in anything permanent with anyone. But when a job opening as a nanny at Rancho Diablo was announced, she knew that she had to at least try. Now at her interview all she can do is wait to be approved by the Callahan siblings for her to get the job.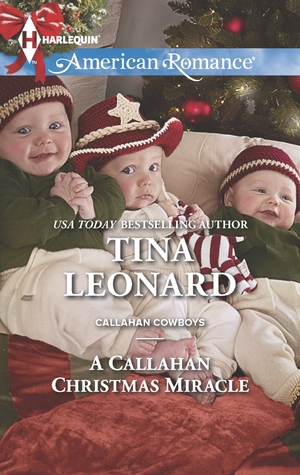 Galen knows that with the feud between his uncle and them, and Rancho Diablo under siege, he could not consciously bring a wife and family there and not a future he saw for himself. But when he meets Rose he cannot help the immediate attraction he feels. He wants her and he knows that he will have her.
But no matter how much Galen wants to keep his distance, Rose's heart of a warrior will keep bringing him close to her. Especially after she helps him and one of his brothers investigate a cave and finds an arsenal, a treasure and what looks like a tunnel running underneath it all, Galen only wants to keep her safe, out of trouble and danger and she keeps texting him things that make him go to her bedroom and get in her bed to talk and make her see the error or her ways.
After making it a daily routine of talking at night in her bed, one night Galen cannot hold out any longer and stays with her all night in her bed. He knows that he wants to keep her, but he will not do like his brothers and he will marry her before she gets pregnant first and decides to lead him on a merry chase like all his sister-in-laws have done with his brothers.
Only soon after the wedding they find out that Rose is pregnant, with triplets. Galen couldn't be happier, but he cannot let her be in danger. Which only brings problems to their relationship since he wants her to stay at home out of any danger, but Rose is used to facing any problems head on, even when danger comes knocking to the door.
Galen and Rose have an interesting journey ahead, and learning to trust and fight together will be a hard lesson to learn but one they must if they are to remain together. Galen's uncle Wolf will not stop until he gets Rancho Diablo and ruins all his family so the fight will continue.
For a sweet, fun and interesting read with a feisty blonde heroine and a stubborn hero, don't miss A Callahan Christmas Miracle by Tina Leonard.
Book Info:

Published November 5th 2013 by Harlequin American Romance (Book 1473) | Callahan Cowboys
TO LOVE, HONOR…AND MULTIPLY!
Becoming a husband and family man in the middle of a raging land feud wasn't the destiny Galen Callahan saw for himself. But once he laid eyes on Rose Carstairs, he knew the bouncy blonde with the warrior heart was his future. Now, with Rancho Diablo under siege, the eldest Callahan sibling will do whatever it takes to protect his new wife and triplets.
Except Rose refuses to be protected! No husband of hers can stop her from fighting by his side while keeping their newborn sons out of the line of fire. With Callahan lives and legacy on the line, Galen has a new mission: to vanquish a dangerous enemy and bring his family together in time for Christmas!