Desire (The Dining Club, #1) by Marina Anderson:  Although, say that Desire is a "book" is really stretching the bounds of what a book is. 35 pages doesn't a book make, if you know what I mean…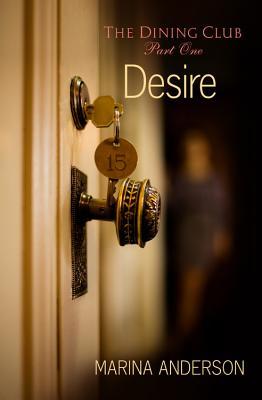 First of all, comparing this novella to the likes of E. L. James, Sylvia Day, and J. Kenner is really overreaching. The subject matter may be similar but I think that's where the comparisons should end.
I didn't really care for this novella and it isn't only because of the length. Some consideration should be given since this is really just an introduction to the world and to the characters. I don't have any issues with the writing; I think the writing is actually quite good. I didn't even realize that this was a novella until it ended! I think everything felt real and the characters were pretty well developed.
I liked the heroine decent enough. I don't find myself interested in the fact that Grace is a "Young, ambitious theatre director" but that's just me. But she seemed like a nice, normal person who could anyone's friend or sister. What I didn't like what the hero. David seemed like a jerk. And I know that Doms and alpha males are supposed to come off as commanding and all that but I didn't think David came off as commanding.
To me, it seemed like he was hiding not just a part of himself (which he attempts to justify) but he was hiding the intent of their weekend away together. In the six months they've been dating, he has never hinted at his hidden kink. When he plans this weekend away for them, he doesn't tell her ANYTHING about what is coming.
View Spoiler »
And then he's shown fingering and kissing some other, seemingly random, chick at this club!! « Hide Spoiler
To me, he came off as a big liar and as extremely deceitful. I actually found myself worried for Grace and not trusting him one bit.
As much as I enjoyed the writing and the heroine, I don't think I'll be checking out the rest of this series. Especially if David is truly the hero. If Grace meets a proper Dom, instead of David, I might try again. But if not, I think its safe to say that I'm finished with this series.
Book Info:

August 20, 2013 by Hatchette Digital
For fans of New York Times bestselling authors E. L. James, Sylvia Day, and J. Kenner comes the first part of international bestselling author Marina Anderson's erotic series The Dining Club.
Part One: Desire
Young, ambitious theatre director Grace has no time for distractions, but she just cannot resist enigmatic city financier, David. Alluring, charismatic and an incredible lover – David never lets Grace get too close. So when he invites her to a weekend at his private club, Grace is thrilled.
Arriving at the secluded location, and excited by her nerves, David reveals the truth behind the Dining Club: a place where guests are taught to open their minds, and their bodies to erotic challenges. If she passes the tests, she is promised ecstasy beyond her wildest fantasies. If she fails, she's forbidden to ever set foot in the exclusive club again. But even as David's seductive commands make Grace feel more daring than ever before, she begins to fear for their future. What if she fails one of the Club's tantalizing trials? Will David still want her or will she lose him forever?