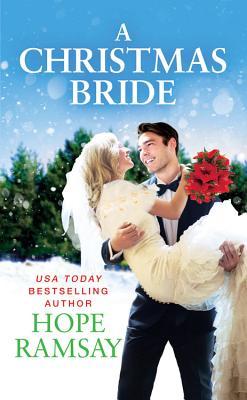 A Christmas Bride (Chapel of Love #1) by Hope Ramsay is a beautiful story about finding love again, about turning your life around and what happens when Christmas dreams and wishes come true. This is the story of Willow and David.
Willow Peterson has not been back in Shenandoah Falls in years. She left to make something of herself, but now she is back. Missing her best friend, the one that was closest to her as a sister, the one that was killed in a tragic accident. Now wanting nothing more that to see her dream for the old Eagle Hill Manor to be turned into a reality, she will have to convince her best friends widow to step up and help her.
David Lyndon has always done what he was suppose to do. He has been groomed all his life to run for office, even though this is not something that he has a passion for. When his cousin comes to him asking him to allow them to have their wedding at the Eagle Hill Manor, a wedding of their dreams, not something political or power driven, David wants to say no, but when Willow accuses him of being a Scrooge, of telling him that his wife would be disappointed in him, he changes his tone fast.
The more that David and Willow work together, the more time that they spend together with Davids daughter, the stronger the connection that they form and the hotter the feelings for they have burn. When David strikes a deal with is campaign manager and makes a decision for Willow, it could destroy the future that are trying to build.
I loved that David and Willow had a connection in the past. They were friends, they had his dead wife in common, they really knew each other. I loved that they both loved and cared about David's daughter. Through the story you can see how David truly changes, understanding what is truly important in life, his daughter and Willow. An amazing Christmas story that is both magical and wonderful.

Book Info:

 Expected publication: September 27th 2016 | Forever | Chapel of Love #1
A season of hope . . .
'Tis the season in Shenandoah Falls and the first time Willow Peterson has been home in years. But she's determined to fulfill the wishes of her recently deceased best friend and restore Eagle Hill Manor to its former glory-all in time to host the perfect holiday wedding. She just has to get the owner of the historic inn to hire her. Unfortunately, that means dealing with Scrooge himself…
After the death of his wife, David Lyndon has a bah-humbug approach to Christmas. But as December counts down and the wedding planning is in full swing, it's harder and harder to stay immune to the charms of Willow, especially when he sees how much joy she brings his eight-year-old daughter. After a simple kiss under the mistletoe turns into something more, David is hoping he can turn the magic of the holiday season into the love of a lifetime.