In A Comedy of Erinn by Celia Bonaduce, Erinn Elizabeth Wolf is an out of work playwright whose heyday is behind her. Instead of working on her newest play, she spends time on her newest passion, photography. In need of money, her sister suggests she rent out her guest house to bring in some income while finishing her latest play. The first person who answers her sister's Craigslist ad is Jude Raphael, a young reality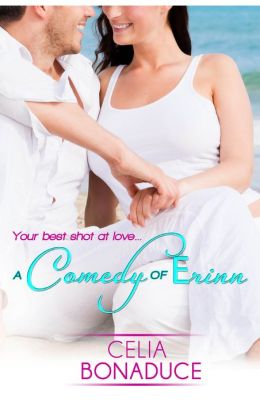 TV director. Jude manages to rub Erinn the wrong way from the very beginning.
"You know, Jude, I'm not sure this is going to work out." He looked up. "Oh? Why not?" "…I just think that, if two people live in such close proximity to each other, there should be some symbiosis if you get my drift."…"Oh, you mean 'cause I'm in such good shape," he said. "Don't worry about that. I can help you get rid of that spare tire in no time."
Yeah.
Erinn finds a renter for her guest house in Massimo, an Italian actor trying to break into the American market. Things begin to look up even more when she manages to get a job as a TV produce for the History Channel's reality TV program, BATTLEready! There's just one problem–Jude Raphael is the director.
As the shoot for their first episode gets underway, Erinn begins to bound with the crew, including Jude. Just when things heat up between Jude and Erinn, their George Washington needs to be replaced, and Erinn knows the perfect person–Massimo. Massimo is a perfect fit for the non-speaking role, and seems to be an even more perfect fit for Erinn. But she can't stop thinking about Jude. What's a girl to do?
I found it very difficult to like Jude. From their first meeting, I thought he was a little too rude, even in a book in which the main characters don't like each other at first. There were times I didn't like Erinn, either. Her constant correcting of everyone's grammar and facts about history got to be a little annoying. Lastly, I wish Bonaduce had spent more time wrapping up a couple of the subplots.
What I did like about Erinn was that even though she could be annoying, she was self aware enough to realize it. She also had a good heart under her hermit-like exterior. It was fun to watch her relationship with the crew develop as she learned to make her particular quirks work for her in social situations. The exchanges between Jude and Erinn are pretty funny as well.
"Jude," Erinn said, "I'm too ol…I'm too tired to deal with an avalanche of emotions." "But that's not fair! I'm in that avalanche with you. I'm…I'm bombarded with really frozen…white…passion." "You're bombarded with really frozen white passion?" " I thought we were doing an avalanche metaphor thing," Jude said.
I also liked that the plot of A Comedy of Erinn had enough twists to keep me engaged. I liked Massimo and the other producers on the reality show, Carlos and Gilroi.
I would recommend A Comedy of Erinn to anyone who likes a really abrasive male protagonist, romances where the man and woman don't like each other in the beginning, a woman deciding between two men, and those who love history, specifically the Civil War.
Book Info

Publisher: eKensington (September 19, 2013)
Erinn Wolf needs to reinvent herself. A once celebrated playwright turned photographer, she's almost broke, a little lonely, and tired of her sister's constant worry. When a job on a reality TV show falls into her lap, she's thrilled to be making a paycheck–and when a hot Italian actor named Massimo rents her guesthouse, she's certain her life is getting a romantic subplot. But with the director, brash, gorgeous young Jude, dogging her every step, she can't help but look at herself through his lens–and wonder if she's been reading the wrong script all along. . .
75,503 Words