A Convenient Texas Wedding by Sheri Whitefeather: Two people destined by fate… what that destiny is is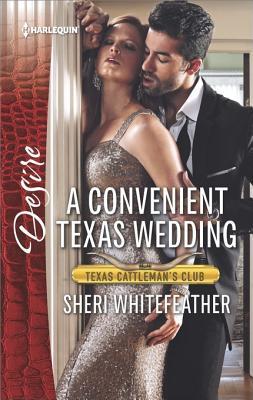 a whole other question though.
Allison Cartwright was innocent in many ways. She had dreamed of America and of Texas since she was a young lass. Then in blows a stranger, a handsome man who steals at her heart and away she goes to Texas. However it was too good to be true and now she is alone and virtually penniless with an expiring visa. What is next in her journey?
Rand Gibson is rich and handsome, of that there is no doubt. He is, however, a playboy and in need of a serious make over as well as a dose of growing up. Even he admits to that, but can he scheme to make it happen and make it happen quickly? He thinks he can, he just has to find the right woman to help make it happen.
Fate places Rand and Allison together. Rand manipulates the situation so they can both get with they need. Destiny, however didn't get Rand's memo, or did it?
Ms. Whitefeather has brought readers back to Royal, Texas in this series. She does a magnificent job in setting up what looks like it will be a great series in terms of plots and twists and making your mind work in different ways. The beginnings of a lot of story lines are there and as a reader I'm dying to dive into some of them. This novel however wasn't one of them. The story is there, the twists are there, but unfortunately it was not written in an easy style to read. Many places are disjointed, or rushed, some are over detailed and some leave too much to the imagination. Overall this is a great set up novel but the romance in general leaves a bit to be desired.

Book Info:

Publication: March 1st 2018 | Harlequin Desire | Texas Cattleman's Club: The Impostor
They had their reasons for marriage…until unreasonable passions prevailed!Millionaire Rand Gibson's proposal shocks Allison Cartwright. He needs a wife to debunk his playboy image, and her fresh-faced look is perfect for the role. Allison insists sex is off the table. Yet she fears their bodies will betray them. Though the Irish-born writer wants to stay in America, is she desperate enough to marry a man who could break her heart in the bargain?