Midnight Valentine by J.T. Geissinger: Megan just feels lost after losing her best friend and husband. Even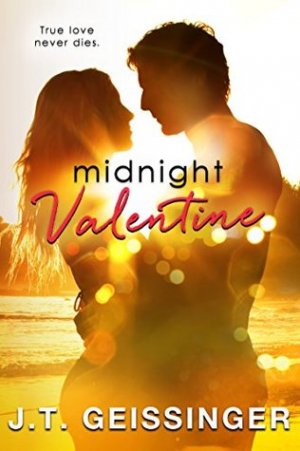 five years later, she's still wearing her ring and working to fulfill the dreams they had by moving, buying, and planning to restore the Buttercup to its former glory. She's a bright, feisty, and sassy woman who hasn't moved on in many ways.
Theo's life changed without warning. After his accident, he changed in many ways and people have come to accept this new version of him. Theo is strong, sexy, reclusive, and runs the best contracting company in the area.
Megan is eager to get the work started on repairing and restoring the Buttercup, but the problem is Theo. He may be the best contractor in the area, but it's very clear that he can't stand to be around her. He's determined to get the contract, regardless of his issues with her, but Megan isn't a pushover. Between his thunderous disposition and many mood swings around her, she's hesitant to have him around for months during this project.
<<<quote>>>
"C'mon, Sunshine, you're gonna give me a bad reputation in this town, and I only just moved here. The way you're acting, people will start a rumor that I made you cry over breakfast."
He turns his head a fraction, peeking out at me from between his fingers.
I send him a big smile. "I usually don't make men cry until after lunch."
<<<quote>>>
Megan and Theo dance around each other as they fight they pull they feel. It's uncomfortable to want someone so much while also having the feeling that they simply know each other. As events unfold, they seem to be drawn even closer together and they come to an understanding of sorts. Both question their own sanity, their connection, and if the impossible just might be possible after all.
<<<quote>>>
"I don't care if we're crazy. You make me believe that all the things I stopped believing in might actually exist. You give me faith, Theo. Until I lost it, I had no idea how impossible it is to live without."
<<<quote>>>
Midnight Valentine is a surprising, sexy, emotional rollercoaster. J.T. Geissinger created complicated characters with intriguing connections that will keep you hooked until the end. Ms. Geissinger delivered tension, anticipation, angst, heartbreak, and scorching hot chemistry. Fans of Nicole Jacquelyn and JB Salsbury will enjoy Midnight Valentine.

Book Info:

Publication: Published February 6th 2018 | J.T. Geissinger, Inc. |
hauntingly powerful love story in the tradition of The Notebook and The Time Traveler's Wife.
True love never dies.
Megan and Cassidy were childhood sweethearts who thought they would be together forever. Fate had other plans. Soon after they were married, Cass's life was tragically cut short. Still grieving her soul mate five years later, Megan moves to the small town of Seaside, Oregon, hoping to rebuild her life.
Her first night there, she meets the town recluse, Theo. Withdrawn, guarded, and mysteriously silent since a terrible accident left him scarred, Theo takes an instant and inexplicable dislike to Megan. But as their paths cross again and again, Megan becomes convinced there's more to Theo than meets the eye. When she discovers the reason for his silence, his nightmares, and especially his pointed dislike, Megan becomes convinced of something far more astonishing.
Is a second chance at a once-in-a-lifetime love possible, or is a broken heart the cruelest kind of liar?