In A Cowboy's Christmas Wedding by Pamela Britton, Cabe Jensen hates Christmas since he lost his beloved wife in an accident. She used to love Christmas and since then, everything related to Christmas reminds him of her and his loss, especially since he not only lost his wife, he also lost his brother and his daughter was so seriously injured they thought she would never walk again.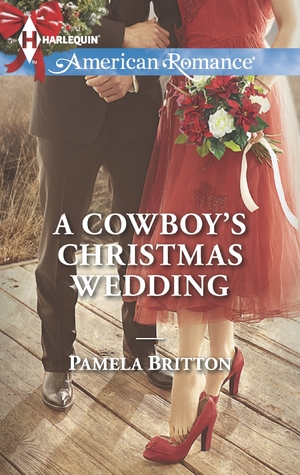 So when Cabe's best friend Alana McClintock asks him if she can hold the wedding at his ranch he knows that he cannot refuse, the only bad thing is that it's going to be a Christmas wedding. And to make matters worst, he has to work with Saedra Robbins to get the wedding together while her best friend Trent Anderson and Alana go visit the family before the wedding.
Saedra knows that Cade cannot stand her, he has made it very obvious since the first time they met, the fact that she cannot help always poking her nose where it does not belong and is used to doing everything herself does not help her at all. They only have two weeks to get everything ready for the wedding, but no place is big enough to hold all the guests and they need to find a way to make the wedding work in the ranch in the middle of a winter wonderland.
With the help of Rana, Cabe's daughter, Saedra is getting everything together to make things work for the wedding. The only bad side is that she cannot help the attraction she feels towards Cabe and living under his roof with him being none too pleased about it will not make things easy for her. What neither of them knows is that Rana can sense the tension between them and she knows the reason behind it, something that pleases Rana very much since she believes it's time her father moves on.
A little manipulation from Rana will help Cabe and Saedra become closer than either of them expected. But while they both feel something really special growing between them, as long as Cabe doesn't let go of his wife and is willing to give them a chance, he will end up loosing Saedra and his second chance at love.
If you want a sweet read about second chances with an uplifting story, don't miss A Cowboy's Christmas Wedding by Pamela Britton.
Book Info:

Published November 5th 2013 by Harlequin American Romance (Book 1476)
CHRISTMAS MIRACLES DO HAPPEN!
Cabe Jensen hates Christmas. After losing his beloved wife, the holidays are nothing but a painful reminder of all that was good in his world. When his best friend asks to get married at his ranch, Cabe has no idea that it's to be a Christmas wedding! The worst part is he has to work with Saedra Robbins—a friend of the groom—on the plans. And Saedra can't seem to stop herself from poking her nose everywhere, making him feel things he'd rather forget.
Trouble is, he's not sure what Saedra's after. She makes herself at home around the place, and his daughter likes her. All Cabe knows is he can't stop thinking about kissing her….