In The Redhead Revealed (Redhead Series #2) by Alice Clayton, Being in New York City acting in an off-Broadway play is a dream come true for Grace. Too bad her British boyfriend, the current hottest man/actor on the planet, Jack, can't be there with her. Jack is out promoting his huge film Time all over the world, dealing with adoring, if not stalkerish, fans. Seeing photos of him out and about posing with lovely young women starts to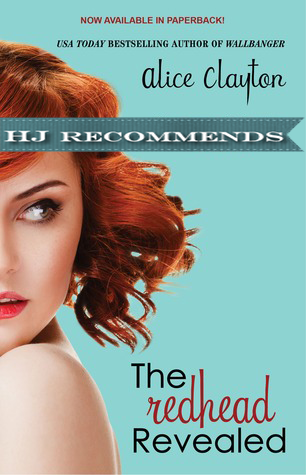 bring out some of Grace's old insecurities. Never mind the age difference between them, the fact that they can't be seen together for fear of a fan backlash begins to drive both Grace and Jack crazy.
'Hey, why deal with things directly, when they can fester and become an emotional storm of epic proportions? I never claimed to be the mature one in this relationship, that's for sure.'
Grace throws herself into her acting and loves the role her old friend Michael wrote for her. She's glad they have become friends again after parting ways on a bad note years before. As Grace spends time with Michael working on rewrites for the play, some of their previous chemistry is still there much to her confusion. She is still head-over-heels for her Brit, but their situation seems so messed up. Did Jack really understand what he was asking for when he said he wanted a crazy girl like her?
"You know I love your body. I mean, come on, you're beautiful. But it's you, my Grace, who I fell in love with–the Chex-eating, foul-mouthed, funny girl. And nothing's going to change that."
Grace and Jack are back to entertain us in The Redhead Revealed. And entertain us, they do. I really, truly love this series by Alice Clayton. It's one of those stories that I can't get enough of and I feel so emotionally invested in, somehow.
"George, you're going to get so lucky tonight," I said laying my head on his shoulder.
"I'm already lucky, sweet girl," he whispered in my ear.
I'm so happy that Grace and Jack are still just as funny, raunchy, tender, and crazy as they were in The Unidentified Redhead. The writing is on par as always with comical and very, very sexy bantering. I thought the pace of the book moved along nicely and didn't draw out too much of any particular part of the plot, letting it all happen pretty naturally. The secondary characters were just as funny and well-developed as our protagonists and this time, they were key to storyline taking place.
Both Grace and Jack's careers have taken off in this sequel which pushes them to opposite sides of the country. Not being together during the "honeymoon phase" of their relationship proves to be difficult for them, especially with how social and demanding their work is. I could really feel Grace's struggle to gain control of her insecurities and sympathize with her internal battle. Jack himself was feeling a bit lost and overwhelmed with his career exploding and I loved how he tried to handle it with a self-deprecating sense of humor and support from his cast and, of course, Grace.
'His name was on everyone's lips, his face was on every cover, and he spent his evenings alone in his hotel room, giggling like a boy on the phone with me as we talked for hours and hours. The sexiest man alive was a closet Golden Girls fan.'
Fans of laugh-out-loud contemporary romance will fall in love with Grace and Jack. Not only is this story hysterical, but there is a myriad of emotions on every page. I can't wait for more crazy and sweet moments in book three: The Redhead Plays Her Hand. Someone, pass the Chex Mix… 😉
Book Info:

HJ Recommends Michele H
Published November 5th 2013 by Gallery Books |
LONG-DISTANCE LOVE JUST GOT HOTTER!
Life is sweet. Grace Sheridan has just won her dream role in a new off-Broadway play, and the talented hunk flooding her phone with scintillating texts and scandalous photos is Jack Hamilton, the twenty-four-year-old "it" Brit whose Hollywood career is about to climax faster than . . . you know. So what if their steamy relationship is bicoastal and under wraps, or that L.A. fangirls are grabbing Jack's ass?
Absence does make the heart grow fonder and the libido hotter, but their few weekend visits feel more more like fast food than the five-course dinner they crave. And then—the creator of Grace's new show is the man who broke her heart back in college, and he seems to have written the play just to make amends with his leading lady.
As rumors spread that Jack and his lovely, leggy ex-girlfriend have gotten back together, Grace starts to wonder about her own feelings. Can lust alone keep our favorite, feisty duo together, or will Grace find herself back in safer, more familiar arms