As an avid reader I always enjoy finding an author whose books I have not yet read, and Anna Stewart's A Dad for Charlie was no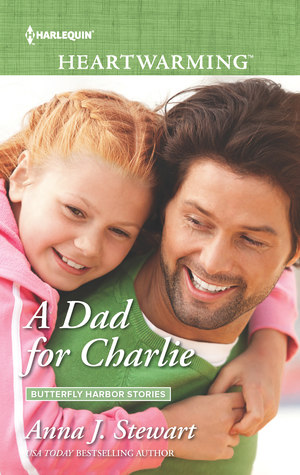 exception. I now plan to read previous books in the Butterfly Harbor series!
"A Dad for Charlie" tells the story of Paige and her sweet, adventure loving daughter Charlie (real name Charlotte), who have temporarily settled in Butterfly Harbor and found a feeling of home in their new friends. One of the local police offers, Fletcher, is immediately captivated by Paige and by Charlie, and is frustrated by the walls Paige has put up around herself. Paige is compassionate and devoted to her friends and always eager to help someone in need; at the same time, she keeps a duffel bag packed in the event she and Charlie have to leave town quickly. Charlie is determined to stay in Butterfly Harbor- a place where friends become family quickly and where she feels secure. And she is determined to have Fletcher for her new father.
Paige and Fletcher begin spending considerable time together as she helps him try to solve a chain of vandalism and burglarized homes- and to convince him that the guilty party is not a local troubled teenager whose family she is close to. All the while Paige worries that her past will catch up with her and Charlie.
Will Paige start feeling she can trust Fletcher and her other newfound friends? Will Charlie succeed in bringing her mom and Fletcher together? To find out, I highly recommend picking up a copy of "A Dad for Charlie".
Book Info:

Publication: August 8, 2017 | Harlequin Heartwarming | Butterfly Harbor Stories
To Butterfly Harbor deputy sheriff Fletcher Bradley, Paige Cooper is a mystery he's dying to solve. Ever since the single mother and her equally irresistible young daughter showed up, life in his California town has changed for the better. Fletch isn't sure what Paige is running from; he only knows she's keeping some pretty serious secrets. Yet here she is, already a vital part of the community and working with him to crack a series of recent break-ins. Paige has to trust someone sometime. Why not Fletch? Doesn't she know that she belongs here–with him?