All I Ever Wanted by LuAnn McLane: Grady is a loyal brother and son. While he enjoyed parts of the time when Heartbeat was the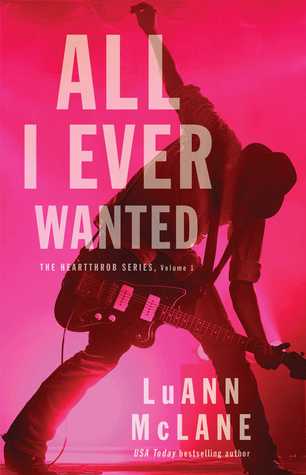 hottest boy band in music, fame also cost him the one thing he truly wanted when Arabella walked away from him and the band. He's since enjoyed living a more quiet life when the band decided to walk away from that life.
Arabella is a talented dancer and choreographer. She's created a really successful chain of dance and fitness studios, but the business side of things is getting more stressful than she anticipated. She's smart, creative, and slow to trust. Arabella loved working with Heartbeat as they seemed like a family, until she left Grady.
Putting on a one-time benefit concert was supposed to be fun, but Grady and his three younger brothers are only getting frustrated and fighting when they struggle to pull off the same dance moves they did as teens. Despite Grady's many objections, they hire Arabella out of desperation to choreograph their show. Seeing each other again brings back feelings both thought were dead and buried.
"But I'm here to do a job. Period. We need to be professional and get to work." She gave him a level stare. "You know I'm the person to do this."
"You're the last person to do this."
"That's just stupid. I'm willing to put the past behind us and get the job done."
Working together again is harder than they expected, especially when their attraction is burning as strong as ever. They fight and bicker until they finally give in to the seemingly inevitable, especially when the brothers are playing matchmaker. They have to deal with their past as old fears resurface the closer they get to the concert.
"Just be patient. Believe in me and the promises I make."
"Grady, that's just it. It's not that I don't believe in you. I don't want you to make any promises. I want you to do what's best for you, your brothers, and the foundation."
"I already know the answers to all of those requests."
All I Ever Wanted is a sexy, emotional, and entertaining second chance rockstar romance. LuAnn McLane delivered angst, heat, conflict, and romance. Ms. McLane created an engaging cast of characters in the Heart brothers. Fans of Katie Ashley and Erika Kelly will enjoy All I Ever Wanted.

Book Info:

Publication: July 24th 2017 | Pocket Star | The Heartthrob Series, #1
From USA TODAY bestselling author LuAnn McLane comes the first in a brand new series featuring the sexy Heart brothers: formerly the members of the cult-phenomenon boy band Heartbeat, they're all grown up and back together for one last reunion tour….
When Grady Heart, former lead singer of the cult-phenomenon boy band Heartbeat and eldest of the brothers, decides to bring the group back together for a highly anticipated reunion concert, he doesn't expect to be met with so much resistance from his brothers. He also doesn't expect them to hire his ex-girlfriend and ex-Heartbeat choreographer Arabella York to help the band rock some new dance moves.
Back in Heartbeat's glory days the brooding bad boy fell hard for Arabella; the studious, stable dance teacher tamed Grady's wild side but her lack of trust in him eventually drove them apart. Although their chemistry burns hotter than ever, Grady tries to keep his relationship with Arabella strictly professional this time around but in his heart, he might just still long to find out what could have been.
Filled with "McLane's trademark devilish dialogue" (Publishers Weekly), All I Ever Wanted is a sexy rock 'n' roll romance, perfect for anyone who's ever loved a boy band!