A Dangerous Taste of Passion by Anne Mather: A small Caribbean island is the lush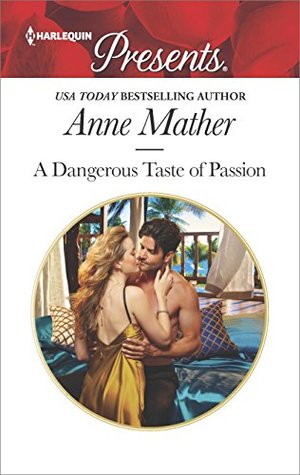 setting for this sensual contemporary romance. Rafael Oliveira has been dogged by false accusations from his ex-wife about being involved in the drug trade, so he's come to make his home here on the island, having acquired some property in wagers in Las Vegas. He encounters the lovely and innocent Lily Fielding, vicar's daughter, and even knowing he is older and that they come from vastly different social circles, he can't deny his attraction to her. But the past isn't quite ready to leave Rafe behind and Lily soon gets caught up in it too – will they find a way to a happy ending?
Anne Mather was one of the first Harlequin writers that I ever read as a teenager, so I think it's wonderful that she's still writing romance books. Unfortunately, for me this isn't the best example of her work. There are too many plot lines going on at the same time, which makes the story feel scattered and unfocused. And I never did feel a connection between the hero and heroine.
Lily works at the local marina and the boat rental business is losing money so she and her boss are looking for an investor. Rafe comes into play here, as the wealthy newcomer to the island who can save the business (and thereby save Lily's job as well). It's in this context that Rafe and Lily first meet officially, though she'd seen him before on the beach. They are attracted to each other right away, and their eventual love scenes are sexy and well written. Rafe makes some decisions that create misunderstandings that could have been easily corrected, and indicate how he is used to not having to explain things to anyone, but this makes him seem somewhat uncaring of other's feelings.
While this is going on, there is also an old friend of Lily's, Laura, whose father is the one who lost his property on the island to Rafe as a result of gambling debts. She has her own agenda, and causes some jealousy on Lily's part when Lily believes that Rafe and Laura could also be an item. As well, Rafe's ex-wife who falsely accused him of being part of the drug trade has sent a spy to the island and there is a suspenseful subplot running through the story, including some surprising action scenes in the second half.
Lily is a bit too naive and inexperienced for me – she's not a virgin but she succumbs easily to Rafe's charms. A lot is made of the fact that she's the daughter of a minister who is quite controlling and she still lives with him, so has to make up excuses for things like being out late and spending time with Rafe. And she makes some questionable decisions that lead to her own folly.
The story also contains some stereotypes that put me off – in particular the working class servants who practice 'black magic'. Presumably this means they are followers of voodoo and there are some off page scenes of activities relating to this, as well as psychic phenomena. I assume it's meant to add some authenticity and/or mystery to the Caribbean island setting but to me it just came across as a story idea that might have been acceptable thirty years ago but really isn't today.
All the ties come together at the end, and while we do get a happy ending, it comes with an insta-love finale that's hard to believe as they've spent very little time together. They are separated by more than 15 years of age, and really don't have anything in common. I would have preferred a happy for now ending with the sense that they'd be glad to spend time to get to know each other better. It's clear that my tastes have changed and while I may have enjoyed this story when I was younger, I expect more now. Still, fans of the author and those who enjoy a May-December romance may find enough here that works for them.
Book Info: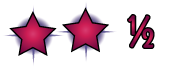 Publication: Dec 20, 2016 | Harlequin Presents |
Will she surrender to the stranger at Orchid Cay?
For Lily Fielding, the small, safe Caribbean island is all she's ever known. But the appearance of an intriguing newcomer is about to change everything for this unworldly vicar's daughter, for the sensual awakening he promises is both intoxicating and illicit…
Raphael Oliveira should resist the temptation that beautiful Lily presents; after all, he knows that wherever he goes, danger follows… Although, once she is under his spell, Rafe's intense passion and dark past threaten to destroy them both!