3rd

Annual Harlequin Junkie

Reader Appreciation EXTRAVAGANZA
#Giveaway:

Day 14
Are you on HJ's Naughty list?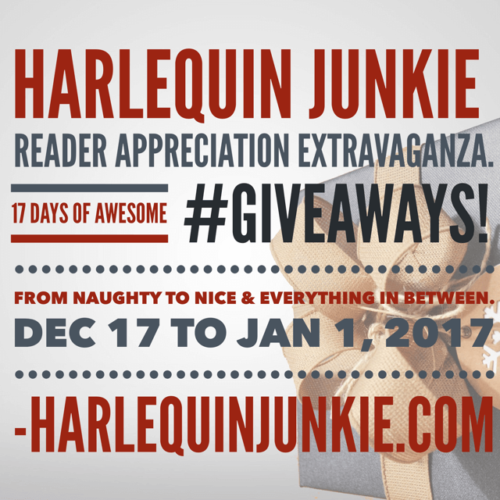 From Naughty to Nice and Everything in between….
Be sure to stop by everyday from Dec 17 to Jan 1 2017 for a chance to win: Box-O-books, Gift Cards, Kindle, Audio books, Author Swag, Gift baskets & more!

The holiday season is the perfect time for Celebrating and Giving.
Considering HJ's Reader community is the BEST! We've decided to do both. 🙂
Starting December 17, we are celebrating YOUR continued support of the romance community & Harlequin Junkie blog with 
16 days of Awesome #Giveaways!
Thank You, for being a part of HJ's community.
Thank You, for all YOUR comments and interactions.
Thank You, for YOUR loyalty to the blog.
Most of all THANK YOU for making HJ a FUN place to hangout!
We <3 You! 🙂
Up for grabs today, Kindle Fire, Gift Cards & Gift Packs. 

#1 GIVEAWAY: 

$50 Amazon Gift Card, Courtesy of Jennifer Hayward.
Award-winning author JENNIFER HAYWARD has been a fan of romance since filching her sister's novels to escape her teenaged angst.
Jennifer emerged on the publishing scene when she won Harlequin's So You Think You Can Write global writing competition in 2012. She is the Romantic Times Magazine Reviewer's Choice Best Harlequin Presents of 2014 winner for her book, The Magnate's Manifesto.
Jennifer's career in journalism and PR, including years of working alongside powerful, charismatic CEOs and traveling the world, has provided perfect fodder for the fast-paced, sexy stories she likes to write, always with a touch of humour.
A native of Canada's gorgeous East coast, Jennifer lives in Toronto with her Viking husband and young Viking-in-training.
Website | Facebook | Twitter |

#2 GIVEAWAY:

Fire Tablet, 7″ Display, Wi-Fi, 8 GB – Includes Special Offers, Tangerine Color. Courtesy of Carolyn Brown.

(No substitutions) – US
Carolyn Brown is a New York Times, USA Today and Wall Street Journal bestselling author and a RITA finalist. She's won the National Reader's Choice Award three times, the Bookseller's Best Award and was award the diamond award from Montlake for selling over a million books. Her books include romantic women's fiction, historical, contemporary, cowboys and country music mass market paperbacks. She and her husband live in Davis, Oklahoma that only has one traffic light. They have three grown children and enough grandchildren to keep them young. When she's not writing she likes to sit in her gorgeous back yard with her two tom cats, Chester Fat Boy and Boots Randolph Terminator Outlaw and watch them protect the yard from all kinds of wicked varmints like crickets, locusts and spiders.
Website | Facebook |

#3 GIVEAWAY:

$25 Amazon Gift Card, Courtesy of Carly Phillips
After a successful fifteen-year career with various New York publishing houses, and over 40 sexy contemporary romance novels published, N.Y. Times and USA Today Bestselling Author Carly Phillips is now an Indie author who writes to her own expectations and that of her readers. She continues the tradition of hot men and strong women and plans to publish many more sizzling stories. Carly lives in Purchase, NY with her family, two nearly adult daughters and two crazy dogs who star on her Facebook Fan Page and website. She's a writer, a knitter of sorts, a wife, and a mom. In addition, she's a Twitter and Internet junkie and is always around to interact with her readers. You can find out more about Carly at www.carlyphillips.com.
Website | Facebook | Twitter | GoodReads |

#4 GIVEAWAY:

Lisa Kleypas gift pack – US
Signed books: Then Came You + Blue-Eyed Devil + Again The Magic
MP3 CD of It Happened One Autumn (not signed),
Lisa Kleypas is a New York Times bestselling author of both historical and contemporary romance. Her thirty-nine novels and four novellas have been published in twenty-four languages and are bestsellers around the world. After graduating from Wellesley College with a political science degree, Lisa sold her first book and made a full-time career of writing the kinds of romances she has always loved to read. Lisa is living her own happily-ever-after in Washington State with her husband Greg and their two children.
Website | Facebook | Twitter |

#5 GIVEAWAY: 

Katee Roberts' cozy up for reading gift bundle.- US
Signed copies of first 3 O'Malley books
A pair of LuLaRoe leggings in the winner's size
A cozy wool socks
New York Times and USA TODAY bestselling author Katee Robert learned to tell her stories at her grandpa's knee. She found romance novels at age twelve and they changed her life. When not writing sexy contemporary and romantic suspense, she spends her time playing imaginary games with her children, driving her husband batty with what-if questions, and planning for the inevitable zombie apocalypse.
Website | Facebook | Twitter |

#6 GIVEAWAY:

Football Themed Gift basket by Tracy Solheim – US
A signed copy of Sleeping With the Enemy
A football snack bowl
A football shaped mug
A football fleece blanket
A tailgate cozi,
and some beverage napkins.
After years of writing reports and testimony for Congress, Tracy Solheim decided to put her fiction writing talents to better use. Since her debut novel in 2013, her books have been bestsellers both here in the U.S. and abroad. She lives in the heart of SEC country, also known as the suburbs of Atlanta, with her husband, their two works-in-progress, a Labrador retriever who thinks she's a cat and horse named after her first novel. When she's not at the barn with her daughter or working out with friends (i.e. lifting heavy bottles of wine), she's writing. Except for when she's reading, but according to her, that's just necessary research.
Website | Facebook | Twitter |

#7 GIVEAWAY:

Roxanne St. Claire Prize pack. – US
Barefoot Bay Backpack 

Signed books

Swag
Published since 2003, Roxanne St. Claire is a New York Times and USA Today bestselling author of more than forty romance and suspense novels. She has written several popular series, including Barefoot Bay, the Guardian Angelinos, and the Bullet Catchers.
In addition to being an eight-time nominee and one-time winner of the prestigious RITA™ Award for the best in romance writing, Roxanne's novels have won the National Reader's Choice Award for best romantic suspense four times, as well as the Maggie, the Daphne du Maurier Award, the HOLT Medallion, Booksellers Best, Book Buyers Best, the Award of Excellence, and many others.
She lives in Florida with her husband, and still attempts to run the lives of her teenage daughter and 20-something son. She loves dogs, books, chocolate, and wine, but not always in that order.
Website | Facebook | Twitter |
#8 GIVEAWAY: 

Dani Collins Gift bundle – US / CAN
Signed copy of Harlequin Presents Baby Swap Duet
A Smart Girls Read Romance shirt
$10 Starbucks card.
USA Today Bestselling author Dani Collins has penned thirty plus books for Harlequin Presents, Tule's Montana Born, and herself. Dani lives in BC Canada with her high school sweetheart. New to empty-nesting, she hopes to add something about travel to her bio very soon.
Website | Facebook | Twitter | Instagram | GoodReads |

#9 GIVEAWAY: 

Lindsay McKenna TWO FOR ONE GIVEAWAY! – US
2 different series by Lindsay McKenna.
Signed Copy of Delos Series Nowhere to Hide, Tangled Pursuit, Forged in Fire, Broken Dreams.
Signed Copy of Wind River Wrangler, Book 1, Wind River Valley Series
Plus surprise SWAG!
A U.S. Navy veteran, Lindsay McKenna was a meteorologist while serving her country. A pioneer of the military romance genre in 1993 with Captive of Fate. Her heart and focus is on honoring our military men and women. Creator of the Wind River Valley Series for Kensington Books, she writes emotionally and romantically intense suspense stories. She is also the creator of the DELOS Series, a family saga/series that is romantic suspense. Visit her online at her website, www.lindsaymckenna.com.
Website | Facebook | Twitter | Instagram | GoodReads |

#10 GIVEAWAY: 

KING'S Series by Mimi Jean Pamfiloff – US
Signed Copy of KING'S
Signed Copy of KING FOR A DAY
Signed Copy of KING OF ME
Signed Copy of MACK
MIMI JEAN PAMFILOFF is a USA Today and New York Times bestselling romance author. Although she obtained her MBA and worked for more than fifteen years in the corporate world, she believes that it's never too late to come out of the romance closet and follow your dream. Mimi lives with her Latin Lover hubby, two pirates-in-training (their boys), and the rat terrier duo, Snowflake and Mini Me, in Arizona. She hopes to make you laugh when you need it most and continues to pray daily that leather pants will make a big comeback for men.
Website | Facebook | Twitter | GoodReads |


To enter Giveaway: Please complete the Rafflecopter form and
Have you read any of the authors noted above? Do you have a favorite read?
*Giveaways noted (US) can only be shipped to a US mailing address.