A Deal to Carry the Italian's Heir by Tara Pammi: Neha presents the outward appearance of a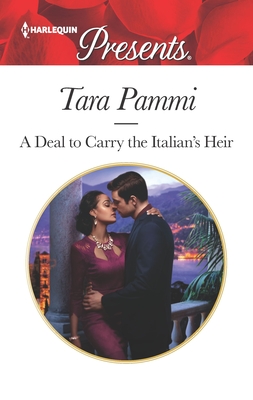 woman to be reckoned with. She runs and is the face of a company around cooking and baking. She's also smart, feisty, and puts others and their feelings ahead of her own. More recently, she's decided she needs a change in life away from a life revolving around work and instead to finally create the family she longs for.
Leo is the head of the family business. He's close with his brother, a few other family members, and Neha. He's also formidable, in control, and could have his pick of women. He doesn't have a good track record with women as he isn't interested in love or commitment.
Leo's friendship with Neha is the longest relationship he's had with a woman. There is definitely an attraction, on both sides, but both have opted to remain as only friends and ignore the chemistry between them. Things change when Neha boldly asks Leo to do her a huge favor and give her a baby.
"You want me to…make you pregnant, so that you can have a baby, which in turn will make you…happy?" Leo finally said, every word enunciated in a biting tone.
She held her composure, barely.
"That is the request you want me to consider before I reject it outright, sì?"
"Yes," she replied, squaring her shoulders.
Neha is one of the only women Leo actually trusts and he holds her in high regard. Her request brings them closer together as she opens up about her life, want she wants, and what she needs to be happy. They know each other pretty well, but they also begin to see new aspects to each other and find that such an arrangement could be much more pleasurable.
"I forgot extremely stubborn in the list of adjectives earlier," he said, taking her hand in his. "Believe me, bella. We're in this together. There's nothing you need to hide from me."
"In the meantime, I'm more than happy to play your hero."
She rolled her eyes and laughed. "I don't need a hero, Leo. I just want you to pretend to be one."
A Deal to Carry the Italian's Heir has friendship, family, drama, and passion. Tara Pammi created two well-matched and complementary characters who support and challenge each other. Ms. Pammi provided an interesting cast of characters in their families. Fans of Dani Collins and Clare Connelly will enjoy A Deal to Carry the Italian's Heir.
Book Info:

Publication: November 19th 2019 | Harlequin Presents |
Her scandalous baby bargain!
With her chances of finally having a family in jeopardy, Neha's taking drastic action! Approaching billionaire Leonardo Brunetti with her outrageous request to father her child by IVF is step one. Step two? Ignoring her deep desire for the alluring Italian!
Leo is the ideal choice because he doesn't do romantic attachments. His parents' less than stellar example cemented that. And the last thing Neha needs is yet another man dictating her life. Her terms are straightforward, until Leo turns the tables by showing Neha how pleasurable indulging her desire can be…