A Diamond for the Single Mum by Susan Meier: My doorman has announced that Harper Hargraves is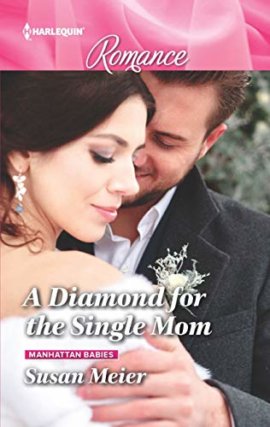 here to see me. Harper is the widow of my best friend Clark Hargraves. When Harper arrives at my door she has baby Crystal with her. I haven't seen Harper since Clark's funeral before Crystal was born. I have no idea why she is here. Now I am shocked to find out that she has no place to go after her condo sold and she doesn't have enough money to find a new place to live. What can I do?
I offered to let her and the baby stay here with me in my condo until she can find a job and get back on her feet. I feel I owe her since Clark helped me when I needed it. But I'm uncomfortable around babies. And even worse I was attracted to Harper before she and Clark started dating when we were all in college together. I find myself attracted to her now but I can't let her know that. I'm definitely not good husband material and Harper needs a steady reliable guy if she decides to remarry.
Both Seth and Harper have issues with their parents. Harper's issues prevent her from going to her parents for help when she finds herself with no place to live. Seth had a miserable childhood with an emotionally abusive father who also happened to be a major cheater on his wife which led to many arguments. Thus marriage is not very attractive to Seth.
A Diamond for the Single Mom by Susan Meier is book #2 in her Manhattan babies series. I really enjoyed how she posed her storyline to lead both main characters, Seth McCallan and Harper Hargraves to their HEA. Along the way the author entertained with interesting secondary characters and fascinating glimpses into the lifestyles of the rich and famous. She has a very pleasing writing style and I plan to read more books written by her.
Book Info:

Publication: January 1, 2019 | Harlequin Romance | Manhattan Babies Book 2
In this Manhattan Babies story, Seth McCallan is committed to being a bachelor – until his best friend's widow Harper crashes into his world. Discovering Harper's been left with nothing, Seth resolves to put things right. Even if that means Harper – and her baby daughter – moving in. Even if that means a pram in his penthouse. Even if that means awakening a dangerous longing to stand by her side, now and always?