A Forbidden Night with the Housekeeper by Heidi Rice: Maxim has been waiting for a good while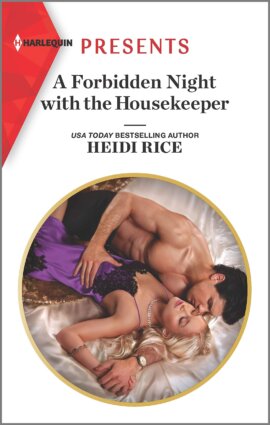 to finally get his hands on his father's vineyard, however much to his surprise his father has actually left the vineyard to non other than the housekeeper. Wanting what has always rightfully been his Maxim goes about what he thinks will be the best way to get his vineyard, seducing the young and beautiful Cara.
Having this beautiful new home all for herself seems almost like a dream, one that Cara is definitely not willing to just hand over to Maxim. But with Maxim being nicer than expected and showing a soft caring side, one thing leads to another and the next thing Cara knows she is faced with a pregnancy she never expected to have. Seeing this as a good chance to get his hands on the vineyard, Maxim proposes a marriage of convenience. The only problem being Cara has developed real feelings for him but the question is will Maxim ever be able to give her the same in return.
I absolutely love the marriage of convenience trope and Rice has done a wonderful job bring this one to life. Maxim is exactly what you want in a hero in this trope, he was a perfect mix of tormented dark alpha that had a softer side hidden beneath. I loved that Cara and their son were able crack the hard exterior and help Maxim heal and become a better father than his own.
Both characters shared an incredibly hot and sizzling chemistry that made this book so easy to finish in one sitting. I would definitely recommend this book to anyone looking for a heart-warming tale.
Book Info:

Publication: July 1st 2020 | Harlequin Presents |
A taste of the forbidden
That has him craving more!
Playboy extraordinaire Maxim Durand is the name on everyone's lips. But the only name on Maxim's lips is Cara Evans's! He can't believe that housekeeper Cara has inherited his vineyard. But bartering with the English beauty isn't going to be simple…
Innocent Cara has no doubt that Maxim is trouble—and totallyoff-limits! She definitely isn't going to hand over her new home to him. But as their desire explodes into passionate life, Cara has to ask: What does Maxim want? His rightful inheritance…or her?