In A Husband's Regret by Natasha Anders, Bronwyn left Bryce when she was 3 months pregnant. It wasn't what she wanted to do, but the unexpected pregnancy made her husband very angry and upset…angrier than she'd ever seen him. When he told her to just leave, she did. She just didn't think it would be forever. Bronwyn knew once Bryce had cooled down he'd come to her. But that never happened, and eventually Bronwyn went on with her life and her pregnancy alone.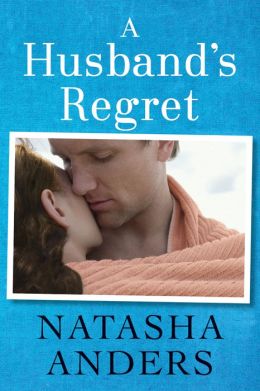 Bronwyn has not had an easy time of things, but she has persevered and made a decent life with her daughter. Almost two years after leaving Bryce, she is working in a restaurant when she has a fateful meeting with Bryce's brother. Being very ill at the time, Bronwyn ends up collapsing, coming to in the hospital. With a very angry Bryce, his brother, and his brother's wife there. Both men are angry and are blaming Bronwyn for things she not only knows nothing about, but had no control over.
Through the anger though, Bryce finally has what he wants. He has found his wife and their child. Despite his feelings towards her, he wants his child in his life and soon manages to convince Bronwyn that it will be better for all of them if they move into his large home. He has no desire to be with her or resume their marriage, but for now all appearances are that Bronwyn is back in Bryce's life as his wife. It is a farce though. Bryce is not only angry, he is mean and bitter, and at times degrading towards Bronwyn. Bronwyn can't stand to see the man her husband has become.
Even as they both still desire each other physically, Bryce won't listen to her. He throws accusations at her constantly and finally with a heavy heart Bronwyn realizes that there are too many secrets overshadowing their marriage and it is time for her to move on without Bryce. It just might be too late for them to fix anything.
Bronwyn and Bryce's story demonstrates very well and realistically that one event, one misunderstanding can change everything. I loved how Natasha brought both of these characters to life! I had very mixed feelings for Bryce. For most of the story I couldn't stand who he was, but with great character growth and development, Natasha brings a whole different side of Bryce into A Husband's Regret. She gives us a deeper look into his character that makes you understand him even if you still don't like him. He is a very complex, layered man with a lot more going on in his head than you'd imagine. Bronwyn is a strong, independent heroine who has moved on well in life, then is suddenly thrown back into her marriage. I felt she handled things very well. She didn't pussy foot around Bryce, she stood up to him, which I loved! I also loved how both Bryce and Bronwyn showed maturity if not with each other but with their daughter, trying to keep their feelings (or lack of!) for each other separate from her. Bryce and Bronwyn were realistic people with actions and reactions that made them very relatable.
Natasha does a wonderful job of bringing emotions simmering beneath the surface to the top. A Husband's Regret was an easy book to become immersed in with it's fast pace and great flow. The South African setting was intriguing in itself too, and the little ways life differs there than in North America made it all the more fun to read.
A Husband's Regret is an intense, emotionally charged romance that I'd recommend to any romance reader who likes a plot you can sink into.
Book Info:

Publication: April 29th 2014 by Montlake Romance
Tall and thin, twenty-eight-year-old Bronwyn Palmer has become positively gaunt, a ghost of her former self. That self was—and still is—the wife of a rich, handsome executive with an ocean-view house and his own security staff.
It was in that house, two years ago, that Bryce Palmer learned Bronwyn was pregnant with their first child. But Bryce's rage over his impending fatherhood touched off a chain reaction of emotional and physical traumas that wounded them both. For Bronwyn, it meant fleeing the perfect marriage to start over with nothing but a precocious daughter named Kayla to care for. For Bryce, it meant a tortuous two years spent blaming his wife for deserting him, and living with the pain of not knowing his child. Now a chance encounter has brought Bronwyn back into Bryce's life, both bearing scars…and neither knowing the whole truth of that fateful night that drove them apart.