In A Justified Murder by Jude Deveraux, Having learned from firsthand experience that attempting to solve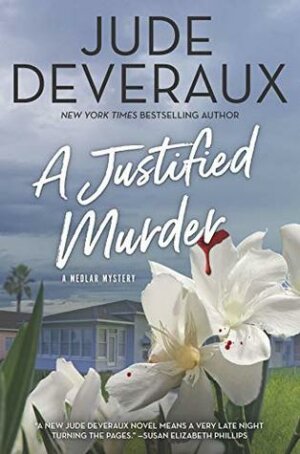 a murder case can put you in severe danger, Kate, Sara and Jack decided to leave the investigative work to the cops in the future. But when another murder takes place in sleepy Lachlan, Florida, the trio can't get away from the gruesome details–or the local townsfolk who want them to put their novice sleuthing skills to good use.
"This is a crime of motive. Of anger. Or greed on a big scale."
"It's pure hatred, that's for sure," Kate said. "This is going to take some digging to figure out who and why."
With every new piece of information Sara, Jack and Kate learn, they get pulled deeper into the case. Who would murder a seemingly sweet elderly woman? And in such a heinous way, to poison, stab and shoot her? They end up finding out that not everything or everyone is as it seems, and even have their own friends and family spilling secrets that shake them to their core. Just when Jack, Sara and Kate think they have it all figured out, the clues take them in a direction they didn't expect. And it will take all three of them to figure out what to do about it.
"Oh, who cares? Yes! I'd very much like to have desert. After what I've heard, I'd like to slide into a tub full of chocolate mousse and eat my way out of it. Maybe it would help me forget."
The image was so vivid–so luscious–that Jack almost couldn't speak. "Could I help? Please?" he whispered.
Kate laughed. "Absolutely not."
Readers will definitely not see all of the complicated plot twists coming in A Justified Murder, Jude Deveraux's second installment in her intriguing Medlar Mystery series.
"You have no idea the depth of hatred that you're trying to bring into the light. It will eat up the good."
I'm already a fan of Jude Deveraux's writing, so I was excited to see she had a mystery series set in a small town with lots of family drama also mixed in. And I have to say that I liked this book as much as her straight up romances. I think aside from the focus being on solving the mystery here of course, the same things I like about Deveraux's writing holds true with A Justified Murder. She typically has a large cast of characters, which this *definitely* did. (SO many people…lol) So in that respect, it might be best to start with book one to get a better grasp of the town and all the locals. But her stories generally have a lot of personal/family secrets and twists you don't see ahead of time, so I thought her style worked really well in this genre.
There are too many characters to get into details about them all, but the three people at the core of the story were Sara, Kate and Jack. What a hoot they were together. Lots of joking between them, they had a great rapport that was a joy to read. And very smart! I loved Sara's "insight" into being an author, with the quips she made about her profession. It makes me wonder if those are words of wisdom from *our* author herself? Hmmmm…
Kate (a real estate agent) and Jack (owned a construction company) were just as engaging and interesting as Sara was, plus with the bonus of some simmering attraction between the two of them. I did think they all made a great team, which obviously the townsfolk thought as well where people were constantly trying to get them involved in the murder investigations. The revelations Kate, Jack and Sara uncovered admittedly had me scrambling to keep up with it all at times–I felt like I should have kept (more) detailed notes as I read, lol–but it made for quite a thrilling adventure.
Exciting, chilling, and yet still sprinkled with Deveraux's lovely dry wit, A Justified Murder was a gripping tale of greed, deception, lies, and had a stunning ending that will surprise readers in the best of ways.
Book Info:

Publication: Published February 26th 2019 | MIRA | Medlar Mystery #2
New York Times bestselling romance author Jude Deveraux continues her breakout Medlar Mystery series with a twisted tale of guilt and revenge…
The small town of Lachlan, Florida, was rocked last year when two bodies were uncovered in the roots of a fallen tree. Despite their lack of investigative experience, Sara Medlar; her niece, Kate; and Jack Wyatt found themselves at the center of the mystery, working together to reveal the truth behind a decades-old secret in the sleepy town. After a narrow escape, they vowed to never again involve themselves in something so dangerous—until Janet Beeson is murdered.
When Janet's body is discovered, everyone is shocked by the violence of the attack. The sweet little old woman has been shot, stabbed and poisoned, but no one can imagine who would want to harm one of the town's kindest, most helpful residents.
Sara, Kate and Jack are determined to leave this case to the professionals. But they are soon bombarded by townspeople eager to tell their stories and clear their names with the trio who solved the Morris murders. Even the sheriff is hoping they'll lend their skills to a crime that seems to have no explanation and no motive. And once the town gets talking, they begin to see that there are more secrets buried in quiet Lachlan than anyone could have imagined…